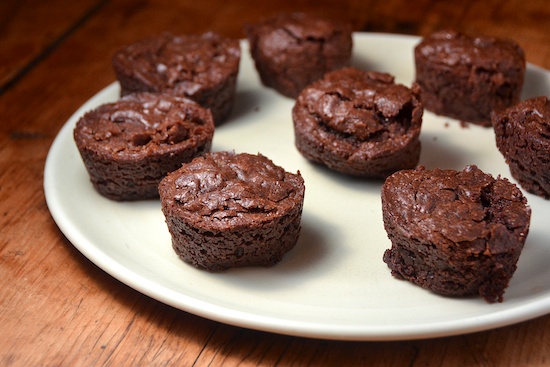 Two of my husband's dear friends from college and their three boys just visited us for a week.  We look forward to their annual visit each summer.  We have lots of fun in the pool, at the beach, playing miniature golf, etc. and the boys get along famously. We have lots of great laughs together.
During their visit, we spent many nights at our local ice cream parlor called the Whale's Tale. The boys love it. In lieu of going one night, we decided to have make-your-own-sundae night. We purchased lots of ice cream, even more toppings and I made these brownies to use as a base for it all. The kids were in heaven.
If you follow the directions and take these brownies out of the oven when they're still slightly undercooked, they're incredible – chewy and fudgy. When you put a toothpick in to test for doneness, you should get a pasty bit of brownie stuck to the toothpick. This is usually a sign that something is not cooked enough, but it's a sign that these brownie bites are cooked perfectly!
My local supermarket didn't have 70% cocoa chocolate, so I used a semi-sweet bar and the brownies were delicious.   I imagine they'd be a bit more chocolatey and ever slightly less sweet if I used the 70% cocoa bar.
If you don't eat all of the brownie bites in one sitting, wrap them up and freeze them. They freeze beautifully. These brownies are delicious on their own, and they're also good topped with ice cream, but then what isn't good topped with ice cream?

Fudgy Brownie Bites
Recipe adapted slightly from ChasingDelicious.com

8 ounces (2 sticks) salted butter
2 cups sugar
1 cup unsweetened cocoa powder
4 ounces 70% cocoa chocolate bar, chopped
1/2 teaspoon salt
1/2 teaspoon pure vanilla extract
3 large eggs, cold
3/4 cup cake flour

Preheat your oven to 325°F. Butter (or spray with oil) a mini muffin pan that has 36 muffin cups.

Melt butter in a pan over low heat. (Ideally you want to melt the butter in a bowl over a pan of simmering water to make sure it doesn't burn). When it begins to melt, add the sugar, cocoa powder and chocolate bar. Stir occasionally until the butter and chocolate have completely melted and mixture is completely mixed together–it may still appear a bit grainy.

When melted, remove the bowl from the heat and allow the mixture to cool slightly.

Add the vanilla and stir. Then add the eggs, one at a time, mixing well after each to completely incorporate.

Add the cake flour and mix the flour in until it is completely dispersed. Continue to mix for another minute to ensure the mixture is smooth. The batter will be very thick.

Spoon the batter evenly into the greased mini muffin pan. Place in the preheated oven and cook for 15 to 20 minutes, or until a toothpick inserted comes out covered in crumbs and a paste-like substance, but not a liquidy looking substance (it should stick to the toothpick and not run or fall off). You don't want to overcook these. Mine baked for 18 minutes.

Allow the brownies to cool to room temperature then remove the brownies from the pan. If you have trouble getting them out, place the pans in the freeze for 20 minutes – this will help the brownies come out of the pan more easily.


Yield: 36 brownie bites

One year ago:  Watermelon Punch
Two years ago:  Grilled Potato Slices with Salt and Vinegar
Three years ago:  Frozen Grapes

Print This Recipe