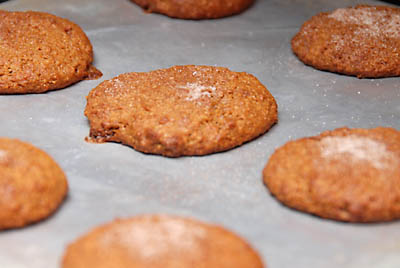 In my quest to find healthy things for my boys to eat for breakfast I came across this recipe for Breakfast Cookies. Although poor eaters, the boys will consume almost anything that I call a cookie. These are actually cookies, but they're surprisingly healthy. They're loaded with complex carbohydrates, whole grains and protein. Not a bad combination to start your day.
My brother Donald is a surgeon, an Ironman Triathlete and he has run about a gazillion marathons. When he tried these he deemed them the perfect food to eat before a run. Not a bad endorsement from such an athlete.
As soon as I make a batch of these, they're gone. This is the one time I don't feel bad about feeding the boys cookies for breakfast. The other thing I like about this recipe is that the boys love to help me prepare it. They love to crush the cereal using the rolling pin, so this recipe gets big points on the kid-participation scale.
Tip: I make these cookies (and all of my cookies) on air-insulated cookie sheets so the bottoms don't burn. I have been using these cookie sheets for years.
Another tip: The recipe suggests that you flatten the cookies with the back of a fork. I found that sometimes the cookie dough sticks to the back of the fork. Another and perhaps easier way to flatten the cookies is to get your clean hands wet and flatten the cookies with your fingers. Your hands shouldn't be dripping, just wet. This should make it easier to flatten the dough before baking.
Breakfast Cookies
Adapted from The Sneaky Chef by Missy Chase Lapine

2 cups whole grain cereal flakes (I use Total)
1/4 cup wheat germ
1/4 cup whole wheat flour
1/4 cup white flour
1/2 teaspoon baking soda
1/2 teaspoon salt
1 teaspoon cinnamon
1 extra large egg
1/2 cup brown sugar
1/4 cup canola oil
2 teaspoons vanilla extract
3/4 cup lowfat ricotta cheese

Preheat oven to 400 degrees and spray two baking sheets with oil.

Put the cereal in a Ziploc bag and gently crush it using a rolling pin. The result should be coarsely crushed flakes. Alternatively you can crush the cereal in a food processor.

In a mixing bowl, whisk together the wheat germ, the flours, the crushed cereal, baking soda, salt and cinnamon. In another bowl, whisk together the egg, sugar, oil, vanilla and ricotta cheese. Add the dry ingredients to the wet and mix just enough to moisten the dry ingredients. Drop single tablespoonfuls (or drop by ice cream scoop – this is my preferred way to make cookies) onto the baking sheets, leaving about an inch between cookies. Flatten cookies with the back of a fork and then sprinkle tops generously with cinnamon sugar (mix 1 teaspoon suger and 1/4 teaspoon of cinnamon).

Bake for about 15 minutes or until lightly browned around the edges.

Yield: ~18 cookies