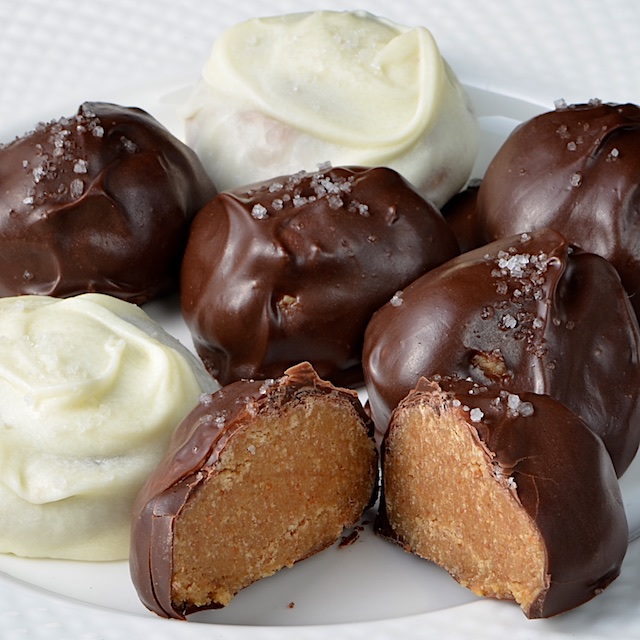 My boys LOVE this recipe. Well, three out of four do. The other one likes these, but doesn't go crazy over them. One of my sons asks me to make these all the time. The boys can't decide if they like them dipped in dark or white chocolate better. These are reminiscent of s'mores, with their graham crackers and chocolate, but they're not as messy, and nicely bite-sized.
I use Honey Maid graham crackers for this recipe. The box comes with three packages of graham crackers, each wrapped in waxed paper. This recipe calls for two of those three packages. Do make sure that once you grind the graham crackers, you have 2 1/2 cups of very fine crumbs. If you don't have enough, your mixture won't be firm enough. Once you pour the liquid ingredients into the crumbs, it takes a little elbow grease to get everything mixed together smoothly.
It's important that once you form the mixture into balls that you chill them. I notice that mine tend to sag a little after I get them rolled and before I get them into the refrigerator or freezer (I used the freezer the last time I made them to speed up the chilling process.) Once chilled, you can re-roll them if they've sagged a bit. Make sure you have a parchment-lined baking sheet available once you start dipping the balls. Once dipped, they want to go immediately onto the parchment. If you're using candy melts, which I did, the chocolate will become firm very quickly, so make sure that as soon as each ball is dropped onto the parchment, you're ready to sprinkle them with a little salt.
Graham Cracker Bites
Recipe from Mother Daughter Dishes via Serious Eats

2 packages graham crackers, crushed finely (approximately 2 1/2 cups)
14 oz. can sweetened condensed milk
3/4 teaspoon pure vanilla extract
1/4 teaspoon fine sea salt
1 bag chocolate melts or dark chocolate chips (for dipping)
Coarse sea salt for sprinkling

Grind approximately 2 packages of graham crackers in a food processor to form fine crumbs. You should make enough crumbs to equal 2 1/2 cups. Transfer the cracker crumbs into a medium-sized mixing bowl.

Add sweetened condensed milk, vanilla extract and salt to the graham cracker crumbs. Mix with a firm rubber spatula until completely combined.

Scoop out the mixture using a small cookie scoop and roll into balls. I like them to be about an inch in diameter.

Place the balls on a parchment-lined baking sheet, cover them with plastic wrap and refrigerate until they are firm.

Melt the chocolate chips or chocolate melts in the microwave until smooth. Remove the balls from the fridge and drop them, one at a time, into the melted chocolate—use a fork to completely coat each candy.

Carefully place the coated bites on parchment paper then immediately sprinkle with kosher or sea salt. Allow the candies to sit at room temperature until the chocolate sets—it won't take long.

Keep refrigerated.

Yield: ~36 pieces

Seven years ago: Chewy Sugar Cookies

Print This Recipe