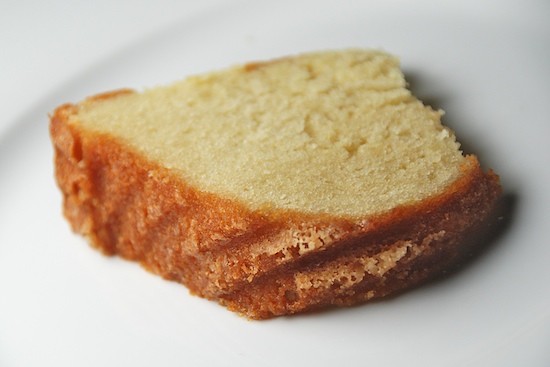 Last week we had two back-to-school picnics for the boys.  Each family is asked to bring a dish to share.    For the first picnic I made this pound cake and spinach brownies (a savory appetizer).   The spinach brownies weren't good enough to post here – they were ok, not great –  and this pound cake almost didn't make it either because I had a devilish time getting it out of the pan.   I have this beautiful Nordic Ware bundt pan that I received as a birthday gift from my sister several years ago, but I have to say that it was difficult to grease and evenly flour the pan, and even after I thought I did it pretty well, the cake didn't want to come out.
The afternoon was comical. I didn't really have time to make something else to bring to the picnic (leave it to me to do things last minute – and to try a new recipe to boot!) so I enlisted my husband's help. He can solve just about anything. We tried steaming the cake out of the pan (found those directions on the web) and we tried putting the cake back into the oven. Neither worked. Then my husband suggested we freeze the cake, so I took a hot cake and put it in the freezer. We had the most luck doing this, but some of the cake still stuck to the pan, so we had to slice it at home to attempt to hide some of the imperfections before bringing it to the picnic.
The pound cake was sweet, rich and delicious – especially the crust. I'll definitely make it again, although next time I'll opt for a much simpler tube pan.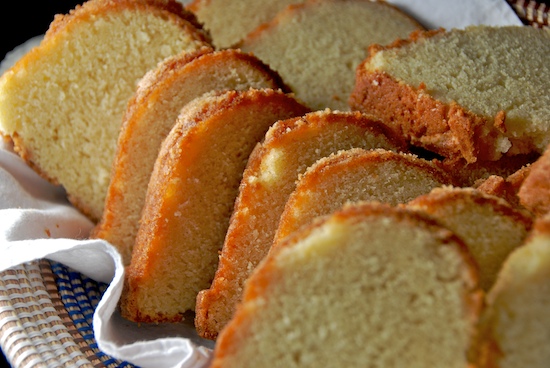 Grandmother Paula's Sour Cream Pound Cake
Recipe by Paula Deen

1/2 pound (2 sticks) butter
3 cups sugar
1 cup sour cream
1/2 teaspoon baking soda
3 cups all-purpose flour
6 large eggs
1 teaspoon vanilla

Preheat oven to 325 degrees F.

In a large mixing bowl, cream the butter and sugar together. Add the sour cream and mix until incorporated. Sift the baking soda and flour together. Add to the creamed mixture alternating with eggs, beating each egg 1 at a time. Add the vanilla and pour the mixture into a greased and floured 10-inch tube pan. Bake for 1 hour 20 minutes.

Yield:  12 servings

Print This Recipe