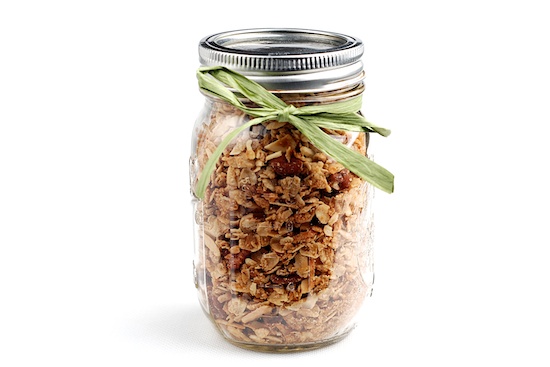 Ok, I'm on a granola kick these days. A typical breakfast for me is some greek yogurt with some granola mixed in. I got sick of paying high prices for small boxes of granola. A small package of granola at my local supermarket costs $6.99. Isn't that crazy? That's why I decided to try to make it myself. The last recipe I made was very good, but this recipe is as good, if not better. I love the coconut flavor that it has.
This granola is on the sweet side, so if you like your granola a little more savory, I'd leave out 2 tablespoons of maple syrup. I like sweet granola, so I loved the recipe as written below.
A couple of notes about the granola. It doesn't clump, so you don't end up with big chunks of granola. Another point to note is that you can play with the ingredients. You can substitute any kind of nuts that you like. You can also add dried fruit. If you're planning to add dried fruit, toss the fruit in once the granola has come out of the oven.
Granola
Recipe adapted from Alton Brown

3 cups rolled oats
1 cup slivered almonds
1 cup pecans, chopped
3/4 cup shredded sweet coconut
1/4 cup plus 2 tablespoons dark brown sugar
1/4 cup plus 2 tablespoons maple syrup
1/4 cup coconut oil (you can substitute vegetable oil if you don't have coconut oil)
3/4 teaspoon salt

Preheat oven to 250 degrees F.

In a large bowl, combine the dry ingredients: oats, nuts, coconut, and brown sugar.

If your coconut oil is solid, heat it in the microwave for 15 seconds, or until it is liquified.

In another bowl, mix the maple syrup, coconut oil, and salt. Combine both mixtures and pour onto 2 sheet pans. Cook for 1 hour and 15 minutes, stirring every 15 minutes to achieve an even color. Cool the granola on the sheet pans. Once cool, store in an air-tight container.

Yield: 6 very large servings

One year ago: Quick Chickpea Curry
Two years ago: Asian Pork Tenderloin
Three years ago: Black Bean Brownies
Four years ago: Sugar Spiced Nuts

Print This Recipe