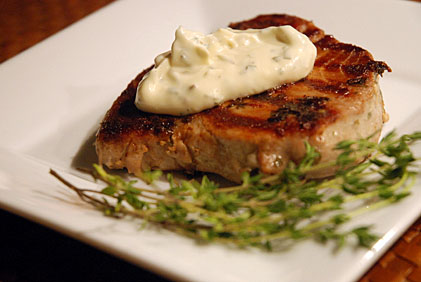 Want a great tuna steak recipe?  This one is terrific.   I make it using a grill pan in my kitchen, but the recipe is designed for cooking outside on a grill.  Either method is great.    It's one of my favorite recipes because it's really quick, healthy and delicious.
A couple of months ago I bought this grill pan because it was on sale.  Boy am I glad that I did. I've used it quite a bit since I purchased it. It's great for grilling thick cuts of fish, chicken breasts and steak.  It's especially good for this recipe.
We had an Italian student visiting us for two weeks and I served this on the first night of her arrival.  I served it with my favorite chick pea salad and some wild rice.  It was a nice dinner.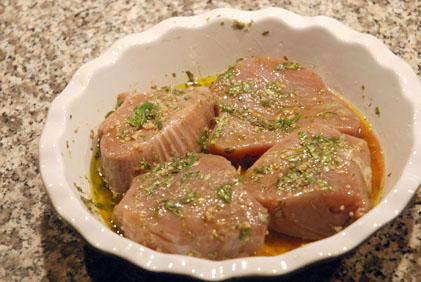 Grilled Tuna with Herbed Aïoli
Recipe from Bon Appétit  July 2003

1/4 cup olive oil
2 tablespoons red wine vinegar
2 tablespoons chopped fresh basil
2 teaspoons chopped fresh thyme
2 teaspoons dried tarragon
2 large garlic cloves, finely chopped
1/3 cup mayonnaise
4 7-ounce tuna steaks (each about 1 inch thick)

Whisk together first 6 ingredients in shallow dish for marinade. Place mayonnaise in separate small bowl. Whisk in 1 1/2 tablespoons marinade. Set aïoli aside.

Sprinkle fish with salt and pepper. Place fish in marinade in dish, turning to coat evenly. Marinate 1 hour at room temperature, turning fish occasionally.

Oil grill rack. Prepare barbecue or grill pan (medium-high heat). Grill fish to desired doneness, about 3 minutes per side for medium. Top fish with aïoli and serve.

Serves 4.