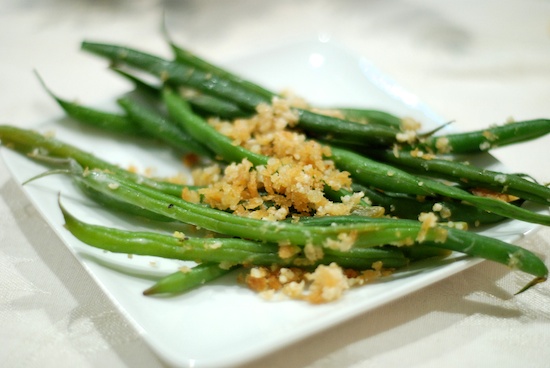 These green beans were one of my side dishes for Christmas Eve dinner and they were delicious.   I couldn't find any Meyer lemons, so I used regular lemons instead.   The dressing was quite tangy, but I liked it a lot.   I ate some of the leftovers yesterday for dinner and had a big bowl for lunch today to polish them off.   I imagine that Meyer lemons would make the dressing a little more mild and less tangy which would be delicious too.
My husband is not a huge green been fan, and he really liked these.  Perhaps it was the cheesy breadcrumbs that topped the beans. Perhaps it also had to do with the fact that I used haricots verts instead of regular string beans. I much prefer the thin ones.
This recipe is great because you can make the dressing and the breadcrumb topping in advance.   All you have to do when the guests arrive is cook the beans, toss them with the dressing, top them with the crumbs and you're done.   I'll definitely make this again.
Green Beans with Meyer Lemon Vinaigrette and Parmesan Breadcrumbs
Recipe from Fine Cooking magazine, September 2008

1/2 cup fresh breadcrumbs
1/2 cup plus 2 Tbs. extra-virgin olive oil
Kosher salt and freshly ground black pepper
1/2 cup freshly grated Parmigiano-Reggiano
Finely grated zest of one Meyer lemon
1/4 cup fresh Meyer lemon juice
1/4 cup heavy cream
2 lb. fresh green beans, trimmed (I used haricots verts with delicious results)

Heat the oven to 350°F. In a small bowl, toss the breadcrumbs with 2 Tbs. of the oil, a generous pinch of salt, and a few grinds of pepper. Arrange in a single layer on a rimmed baking sheet and toast until golden brown, about 10 minutes. Let cool and then transfer to a bowl and mix in the cheese.

In a medium bowl, whisk the lemon zest and juice, cream, 1/2 tsp. salt, and 1/4 tsp. pepper. Slowly whisk in the remaining 1/2 cup oil.

Bring a large pot of salted water to a boil over high heat. Cook the green beans in the boiling water until tender, 4 to 6 minutes; drain well. Toss the beans with the vinaigrette. Taste and adjust the seasoning if necessary. Transfer the beans to a serving platter and sprinkle with the breadcrumbs.

Make Ahead Tips:
The crumbs can be prepared the morning of the meal and stored in an airtight container at room temperature. The vinaigrette can be made a day ahead and stored in a covered container in the refrigerator.

Print This Recipe