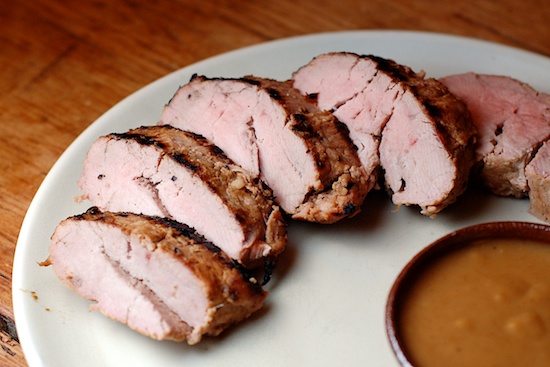 We had lots of guests (primarily my family) over Labor Day weekend, and on Saturday night we had a huge crowd for dinner.   Some of my sister's friends were in Greenport, so they joined us.   We were 12 children and 14 adults.   I was looking for something that was nice enough for company, but easy to cook for a large group.   This recipe fit the bill perfectly.   The sauce was very easy to throw together.   The most difficult part of the recipe is cutting the excess fat and silverskin off the pork tenderloin, butterflying it and pounding it so it's 1/2 inch thick all over (thank you Peter!)
The local Shelter Island supermarket didn't have light coconut milk, so I used the high-test version.   It made a nice creamy sauce.   I was also able to use some of the organic peanut butter that I bought earlier in the summer that my peanut-butter-only eating son rejected. I found that the sauce didn't need the extra water that the recipe suggests. I liked the consistency as it was. I also tossed about 1/4 teaspoon of red pepper flakes into the sauce to give it a little kick. I will probably add 1/2 teaspoon next time.
This recipe was a hit. The peanut sauce was delicious on the pork, and it would also be good on noodles. The day after I made this, my sister-in-law poured some of the remaining sauce over pasta and put some sliced pork on top. She said it made an excellent leftover.
This will definitely be part of my summer dinner rotation next year. I actually liked it so much I might try to make it in the city using my grill pan. If I do, I'll let you know how it turns out.
Grilled Asian Pork Tenderloin with Peanut Sauce
Recipe from Fine Cooking Magazine, June 2007

1 cup light coconut milk
1/2 cup smooth peanut butter, preferably a natural variety
1/4 cup soy sauce
3 Tbs. fresh lime juice
3 Tbs. dark brown sugar
2 large cloves garlic, minced (2-1/2 tsp.)
2 tsp. ground coriander
2 small pork tenderloins (about 2 lb. total)
Vegetable oil for the grill

In a large bowl, whisk the coconut milk, peanut butter, soy sauce, lime juice, brown sugar, garlic, and coriander to make a smooth sauce.

Trim the pork of excess fat and silverskin. Butterfly the tenderloins by splitting each one lengthwise almost but not quite all the way through, so the halves remain attached.

Open each tenderloin like a book, cover with plastic wrap, and pound to an even 1/2-inch thickness with a meat mallet or the bottom of a small skillet. Put the pork tenderloins in the bowl with the marinade and turn to coat. Let marinate for 10 to 20 minutes (or up to several hours in the refrigerator).

While the pork marinates, heat a gas grill with all burners on high. Clean and oil the grate. Remove the tenderloins from the marinade, letting excess marinade drip back into the bowl (don't discard the marinade). Grill the tenderloins, covered, turning once, until just cooked through, 5 to 7 minutes total (cut into one to check). Transfer to a carving board and let rest for 5 minutes.

Meanwhile, pour the marinade into a small saucepan and add 2 Tbs. water; bring to a boil, reduce the heat, and simmer for 3 minutes. Remove from the heat. If the sauce seems too thick, thin it with 1 or 2 tsp. water. Slice the pork and serve with the sauce on the side.

Yield: 4 – 5 servings

One year ago: Chocolate Freckle Ice Cream
Two years ago: Cold Noodles with Sesame Sauce
Three years ago: Zucchini Frittata

Print This Recipe