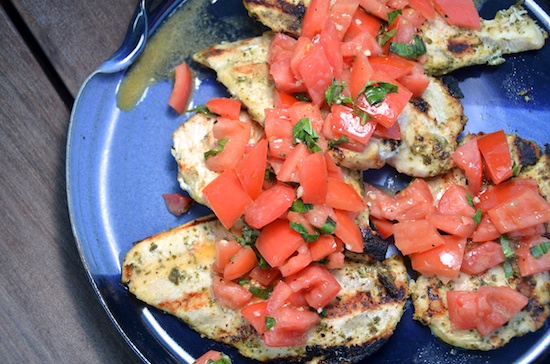 I love quick, flavorful summer meals and this is one of them. I modified the recipe below slightly. It was easy to start with, but I wanted to make it easier so I didn't bother butterflying/pounding the chicken. I also cheated and bought some pre-made pesto. I dumped the pesto into a bowl, forgot to add the lemon juice, put the chicken in and made sure all of it was coated in pesto. I then went on to make the tomato salad.
When I put the chicken on the grill, it was still slathered in pesto, which gave it a great flavor when cooked. The marinated tomatoes are also very flavorful and complement the chicken nicely.
I was able to get one of the boys to try the chicken (sans tomatoes), and he actually said it wasn't bad.  Progress.
Grilled Chicken with Pesto and Marinated Tomatoes
Recipe from Fine Cooking,  August 2002 issue

4 large skinless, boneless chicken breast halves
2/3 cup homemade or store-bought basil pesto
3 Tbs. fresh lemon juice
4 ripe plum tomatoes, cored
3 Tbs. extra-virgin olive oil; more for brushing
1-1/2 tsp. red-wine vinegar
1 clove garlic, minced
1 generous tsp. Dijon mustard
2 Tbs. chopped fresh basil (or a mix of cilantro, basil, and flat-leaf parsley)
Kosher salt and freshly ground black pepper

Heat a gas grill to high. Butterfly the chicken breasts by making a horizontal cut through the center of the thickest long side of the breast. Cut almost but not entirely through each breast. Open the breasts like a book. Cover with plastic wrap and pound to flatten slightly to an even thickness. Combine the pesto with 2 Tbs. of the lemon juice and rub over the chicken in a nonreactive dish.

Cut each tomato in half. Gently remove the seeds with your fingers, coarsely chop the flesh, and put it in a bowl. In a small bowl, combine the oil, vinegar, garlic, mustard, basil, remaining 1 Tbs. lemon juice, 1 tsp. salt, and a generous amount of pepper. Pour this over the tomatoes and combine well.

Oil the grill so the chicken doesn't stick.  Remove the chicken from the pesto, shaking to remove excess marinade, and sprinkle lightly with salt. Grill, turning once, until golden on both sides and cooked through, 4 to 6 minutes total. Transfer the chicken to a platter and serve hot or at room temperature. At the table, spoon the tomatoes over the chicken.

Yield: 4 servings

One year ago: Italian Lentil Salad
Two years ago: Pasta, Pesto and Peas
Three years ago: Strawberry Granita
Four years ago: Linguine with Shrimp Scampi

Print This Recipe