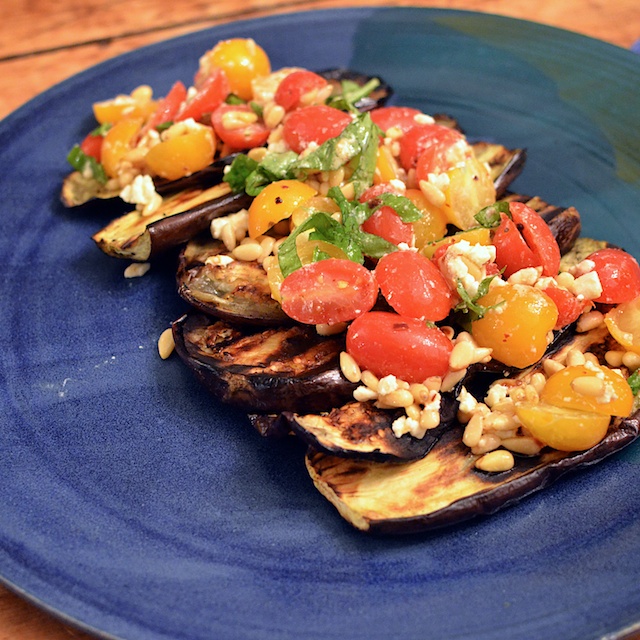 You know I like a recipe if I make it twice within a week. I found this recipe in the September issue of Martha Stewart
and made it while I had access to a grill. In the Northeast, this is a great late-August, early-September recipe when eggplant and delicious tomatoes are in season.
I love to grill eggplant. It gets quite soft and the barbecue gives it a great flavor. It's crispy on the outside and almost creamy on the inside. Topped with the tomatoes, basil and feta, you have a nice vegetarian entree or side dish. There's nothing fancy in this dish and I find that some of the best recipes are made with the most simple, fresh ingredients.
.
Grilled Eggplant with Tomatoes, Basil and Feta
Recipe from Martha Stewart Living, September 2013

1 large eggplant (about 1 1/2 pounds), trimmed, cut lengthwise into 1-inch-thick slices
Coarse salt
1 tablespoon extra-virgin olive oil, plus more for brushing
2 cups cherry tomatoes (about 10 ounces), halved
1/4 cup pine nuts, toasted
1 ounce feta cheese, crumbled (about 1/4 cup)
Pinch of red-pepper flakes
1/4 cup packed fresh basil leaves, torn if large

Generously season eggplant slices with salt. Place vertically in a colander, overlapping them. Let stand 30 minutes; rinse and pat dry.

Preheat grill to medium-high. Liberally brush cut sides of eggplant with oil. Grill, turning once, until tender, about 4 minutes a side. Mix tomatoes, pine nuts, feta, red-pepper flakes, and oil; season with salt. Spoon over eggplant; top with basil.

Yield:  4 servings

One year ago: Roasted Tomatillo Salas
Two years ago: Cream Cheese and Wild Blueberry Pound Cake
Three years ago: Summer Corn Chowder with Scallions, Bacon and Potatoes
Four years ago: Union Square Cafe Bar Nuts
Five years ago: Grilled Salmon with Sweet Corn, Tomato and Avocado Relish

Print This Recipe