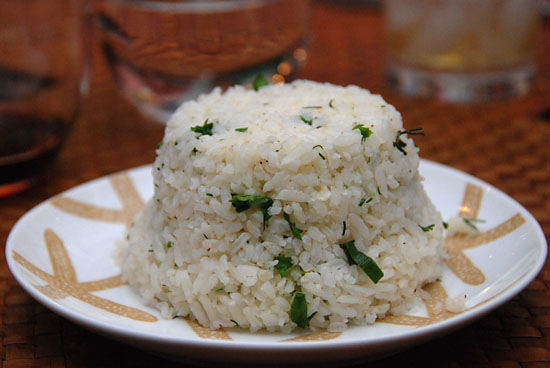 This is one of my all-time favorite rice dishes.   It's oh so simple to put together, elegant in presentation and very strong on flavor.     The fresh herbs really make this dish.    It's even great as a left-over.
In an effort to get the boys to try new things, I'm asking them to sample my food and rate it for my blog.   I was successful in getting two of my sons to try the rice tonight.  On a scale of 1 – 10, they both gave it a 5.   That didn't surprise me based on the fact that the rice is littered with fresh herbs.   But at least they tried it!   It's a step in the right direction.   Now I have to get the other two to try it.   I'll let you know if I succeed.
I served this the other night with Bourbon-Glazed Salmon, and everybody loved it.   I highly recommend that you try it.
Herbed Basmati Rice
Recipe by Ina Garten

1 cup uncooked long-grain (white) basmati rice (recommended: Texmati)
1 3/4 cups water
3/4 teaspoon kosher salt
1 tablespoon unsalted butter
2 tablespoons minced fresh curly parsley leaves
1 tablespoon minced fresh dill leaves
1 tablespoon minced fresh scallions, white and green parts
Pinch freshly ground black pepper

Combine the rice, 1 3/4 cups water, the salt, and butter in a small heavy-bottomed saucepan. Bring to a boil over high heat; reduce the heat to low, stir once, and simmer, covered tightly, for 15 minutes. (I need to pull the pot half off the burner to keep it from boiling over.) Turn off the heat and allow the rice to sit covered for 5 minutes. Add the parsley, dill, scallions, and pepper. Fluff with a fork, and serve warm.

Yield:  3 – 4 servings

Print This Recipe