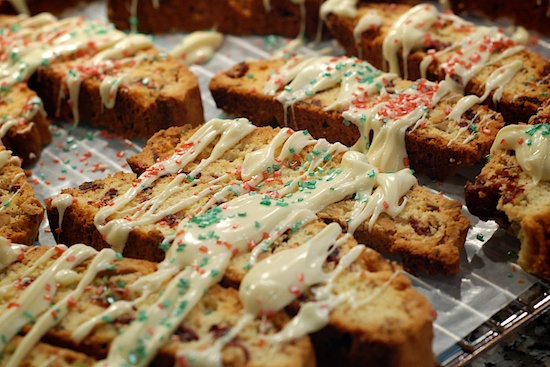 I made these for a Christmas party this year. I loved the red cranberries and green pistachios that peeked out of the cookies. Very festive. Once again, the photo does not do the biscotti justice. We snapped a picture of them right before we packed them up for the party. No time for proper lighting or staging, but I wanted to document the cookies so I have the recipe on hand for next Christmas.
My husband loved these, but he found them to be quite sweet with the drizzled white chocolate. He thinks that next time, I can easily skip the chocolate and still have a delicious cookie. I melted Ghirardelli white chocolate bars for the drizzle, and found the melted chocolate to be a bit thick. Next time I'll add a bit of canola oil to it to thin it out.
I liked using salted pistachios because I love things that are both sweet and salty.   All in all, a delicious and very festive cookie.
Holiday Biscotti
Recipe from Giada De Laurentiis at foodnetwork.com

2 cups all-purpose flour
1 1/2 teaspoons baking powder
3/4 cup sugar
1/2 cup (1 stick) unsalted butter, room temperature
1 teaspoon grated lemon zest
1/4 teaspoon salt
2 large eggs
3/4 cup pistachios, coarsely chopped
2/3 cup dried cranberries
12 ounces good-quality white chocolate, chopped
Red and green sugar crystals, for garnish

Preheat the oven to 350 degrees F.

Line a large, heavy baking sheet with parchment paper. Whisk the flour and baking powder in a medium bowl to blend. Using an electric mixer, beat the sugar, butter, lemon zest, and salt in a large bowl. Beat in the eggs one at a time. Add the flour mixture and beat just until blended. Stir in the pistachios and cranberries.

Form the dough into a 13-inch long, 3-inch wide log on the prepared baking sheet. Bake until light golden, about 30 -40 minutes. Cool for ~20 minutes.

Place the log on the cutting board. Using a sharp serrated knife, cut the log on a diagonal into 1/2 to 3/4-inch-thick slices. Arrange the biscotti, cut side down, on the baking sheet. Bake the biscotti until they are pale golden, about 15 minutes. Transfer the biscotti to a rack and cool completely.

Stir the chocolate in a bowl set over a saucepan of simmering water until the chocolate melts. Drizzle the melted chocolate onto the biscotti. Place the biscotti on the baking sheet for the chocolate to set. Sprinkle with the sugar crystals. Refrigerate until the chocolate is firm, about 35 minutes.

The biscotti can be made ahead. Store them in an airtight container up to 4 days, or wrap them in foil and freeze in resealable plastic bags up to 3 weeks.

Yield: ~24 cookies

One year ago: Individual Beef Wellingtons with Mushroom, Spinach and Blue Cheese Filling
Two years ago:  No-Bake Chewy Granola Bars
Three years ago:  Spritz Cookies

Print This Recipe