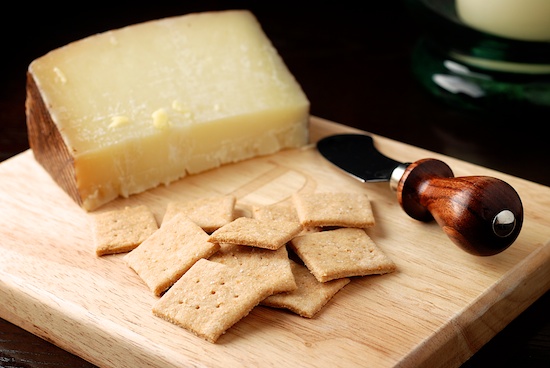 One of my sons LOVES Wheat Thins. He would eat a whole box in a sitting if we let him. As store-bought snacks go, they're not terribly unhealthy, but I believe that everything is healthier when you make it yourself. Wheat Thins have high fructose corn syrup in them as well as monoglycerides. I hate ingredients with strange looking names. In recipe I used below, all of the ingredients are straightforward things you recognize.
My boys and some of their friends inhaled these crackers. I had to put a few aside to be able to photograph them, but as soon as the photo was taken, they were devoured. My boys ask me to make more all the time.
These crackers are very good, but they're not exactly like the Wheat Thins you buy in the store. They're not quite as crispy. They're awfully good though. I'll definitely make many more batches of these.
When you roll out the dough, the thinner, the better. Also, try to roll the dough as evenly as possible. If some crackers are thinner than others, they'll cook much more quickly, so watch the oven as they cook and if you have some thinner ones that are cooking more quickly, remove them when they're lightly browned and then continue to cook the rest.
Homemade Wheat Thins
Recipe adapted from The Green Life Pages

1 1/4 cups whole wheat flour
1 1/2 tablespoons sugar
1/2 teaspoon salt, plus extra for sprinkling
1/4 teaspoon paprika
4 tablespoons butter
1/4 cup water
1/4 teaspoon vanilla

Preheat oven to 400 F. Line two baking sheets with parchment paper or a non-stick mat.

Put all of the ingredients into a food processor and pulse until combined and the butter is evenly distributed. Add 1/4 cup of water and process until the dough begins to form a ball. If the dough seems too dry, add a tablespoon of additional water, or two if necessary.

Divide the dough in half. On a floured surface, roll the dough into a rough rectangle shape, until it's about 1/16″ thick. Use a pizza cutter (or a knife) to cut the dough into small squares.  Real Wheat Thins are about a 2″ square. Use a spatula to place the dough squares onto the cookie sheet, leaving some room between each cracker. They can be pretty close to each other on the cookie sheet because they won't really spread. Once on the cookie sheet, you can use a toothpick to poke several small holes in each cracker, much like real Wheat Thins. Sprinkle some extra salt on the crackers before baking.

Bake until crisp and lightly browned, about 5 – 7 minutes. Watch closely, because they can burn quickly, especially if some of your crackers are thinner than others.

Yield: ~64 crackers (but this depends how big you cut them)

Two years ago: Alsatian Pizza
Three years ago: Pear Salad with Raspberry Cream
Four years ago: Roasted Potato Leek Soup
Five years ago: French Lentil Soup

Print This Recipe