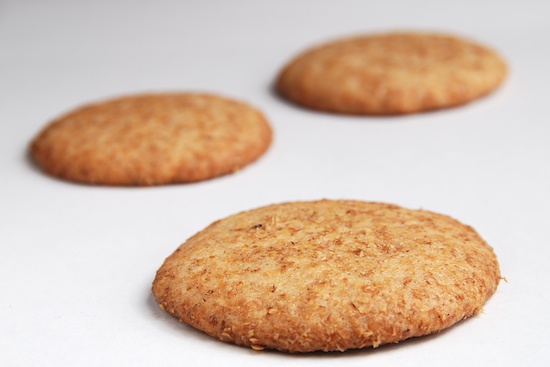 I have a cookbook called Baking from My Home to Yours by Dorie Greenspan, and I have flipped through it many times without taking much notice of this recipe.   It didn't come with a picture, and the name turned me off.   Honey Wheat?   Yuck.    Boy was I wrong!   These cookies are delicious and very reminiscent of Nilla Wafers.   They're crunchy on the outside and softer on the inside and the lemon zest gives them a nice little tangy punch.
Two of my four boys loved these.   One wouldn't touch them because he saw me rolling them in wheat germ before they baked.    I'd hate to tell him how many muffins/cookies he loves that have wheat germ in them.   I hate when the boys make judgments about food based on looks alone.
These are very simple to make.   Next time I make them I'm going to try to add another teaspoon of lemon zest to the recipe.   I really love the lemony flavor that the cookies have, and I think I'd even like a little more.   When you press these cookies down with a glass before baking, get the bottom of the glass wet if the cookies are sticking to it.   The moisture will prevent the cookies from sticking to the glass so much.
Try one of these with a cup of tea. Yum!
Honey-Wheat Cookies
From Baking from My Home to Yours by Dorie Greenspan

1 3/4 cups all purpose flour
1 cup wheat germ
1 tsp. baking powder
1/4 tsp. salt
1/2 cup sugar
2 tsp. grated lemon zest
1 stick(8 tablespoons)unsalted butter, at room temperature
1/2 cup honey
1 large egg

Whisk together the flour, 1/2 cup of the wheat germ, the baking powder and salt. Working in the bowl of a stand mixer or in a large bowl, run the sugar and lemon zest together with your fingers until the sugar is moist.  Add the butter and, using the paddle or whisk attachment of a hand mixer, beat on medium speed for about 2 minutes, until creamy or smooth. Add the honey and beat for another minute or two. Add the egg and beat for about 2 minutes more, until you have a smooth, light , fluffy mixture. Reduce the mixer speed to low and add the dry ingredients in 2 portions, mixing only until each addition disappears. Scrape the dough out onto a large piece of plastic wrap and wrap well. Chill the dough for at least 2 hours, or for up to 2 days.

Getting ready to Bake: Center a rack in the oven and preheat the oven to 350 degrees F. Line two baking sheets with parchment or silicone mats. Put the remaining 1/2 cup wheat germ into a bowl. Remove the chilled dough from the fridge and, working with a spoonful of it at a time, roll the dough between your palms into 1-inch balls. Drop each ball into the wheat germ and turn to coat, then place the balls on one of the baking sheets, leaving about 1 inch of space between them(these don't spread much). Use your palm or the bottom of a glass to gently flatten each cookie. Bake the cookies one sheet at a time, for 10 to 12 minutes, or until they are just firm to the touch. Transfer the cookies to a rack to cool to room temperature. Repeat with remaining dough.

Storing: The cookies will keep at room temperature for about 3 days or wrapped airtight in the freezer for up to 2 months.

Yield: ~36  cookies

Print This Recipe