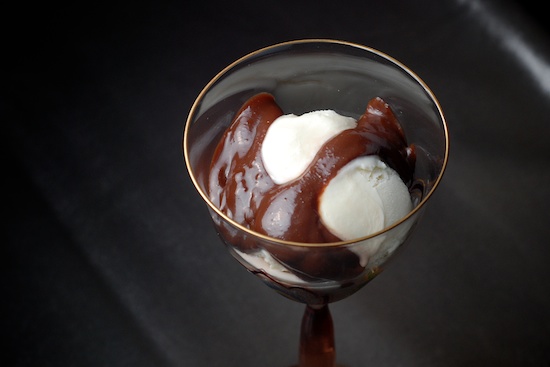 I LOVE hot fudge sauce. One of my favorite desserts in the world is a scoop of vanilla ice cream smothered in hot fudge sauce. When eating out at a restaurant, I'll often pass over all of the fancy desserts in lieu of ice cream and hot fudge sauce if they have it on the menu.
This sauce is thick, sweet and chocolaty. If you don't like your sauce so sweet, you might want to try bittersweet chocolate in the recipe, or a mixture of bittersweet and semi-sweet. I like the sauce just as it is.
I don't think I'll ever buy a jarred sauce again. I just checked the ingredients in Hershey's chocolate sauce and they include: High Fructose Corn Syrup, Potassium Sorbate, Mono And Diglycerides, Polysorbate 60, Xanthan Gum and Vanillin, an artificial flavoring. Why buy sauce with those junky ingredients when you can easily make something at home that tastes better?
My grandmother used to make a hot fudge sauce and she'd always have some available when we visited. When I was young we used to drive to Boston to visit her after my father finished work on Fridays. We'd usually arrive at my grandmother's house at about 10pm. I have such fond memories of walking into her kitchen (her house was always freezing cold – it was an old Victorian) and being served vanilla ice cream with her homemade hot fudge sauce. It was such a wonderful welcome. I can see her standing at the stove right now heating up the sauce. I know I've mentioned this before, but I really miss her. I used to talk to her every day, and we'd laugh and laugh. I loved her sense of humor.
Hot Fudge Sauce
Recipe from AllRecipes.com

1 (14 ounce) can sweetened condensed milk
4 (1 ounce) squares semisweet chocolate
2 tablespoons butter (no substitutes)
1 teaspoon vanilla extract

In a heavy saucepan, combine the milk, chocolate and butter. Cook and stir over medium-low heat until chocolate is melted. Remove from the heat; stir in vanilla.

Yield: 8 servings

One year ago: Chocolate Candy Cane Cookies
Two years ago: Mac and Cheese
Three years ago: Mahogany Beef Stew with Red Wine and Hoisin Sauce

Print This Recipe