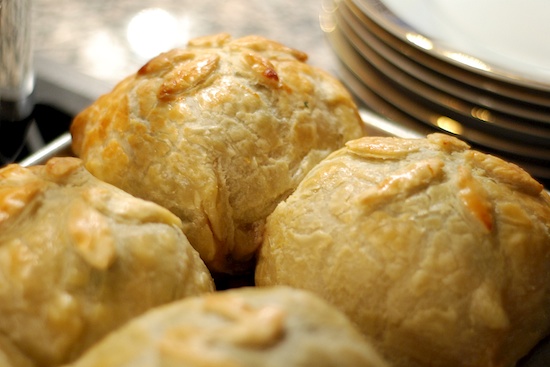 This was the pièce de résistance of my Christmas Eve menu. I made 12 of these and it took over 5 hours to assemble them and that was with help from my dear friend Paul who happened to drop by on the day before Christmas Eve. He was immediately pressed into service to assist with the assembly which was very time consuming. I don't think he'll be tempted to drop by again any time soon.
These were really delicious. I loved the fact that I was able to make them in their entirety the day before Christmas Eve. When our guests arrived for dinner, I took them right from the freezer and put them into a preheated oven. It doesn't get any easier than that. Thank goodness the dinner was ready beforehand because as is typical for us, as soon as the guests arrived, our annual holiday hurl-a-thon commenced.  Every Christmas one of our sons seems to get a stomach virus and this year was no exception.
I usually post recipes that are fairly simple to make. This recipe is definitely an exception. None of the steps were difficult, but each one took time. It was worth it in the end – our guests were very impressed. I'd make these again, but only for a very special occasion.
I made one change to the recipe. I don't like blue cheese so I used Boursin instead. A couple of tips: make sure you squeeze every drop of water out of the spinach; when you bake these, leave room between them on the cookie sheet – you don't want to pack them too closely; when assembling these, make sure you press the pastry around the filling so you don't have any big air pockets.
Individual Beef Wellingtons with Mushroom, Spinach and Blue Cheese Filling
Recipe from Fine Cooking, December 2000


For the pastry:
3 packages (1 lb. each) frozen puff pastry (6 sheets total), such as Pepperidge Farm brand
Flour for rolling

For the mushrooms:
2 large portabella mushrooms, stems removed
6 Tbs. olive oil; more for cooking
2 cloves garlic, minced
1/2 tsp. fresh thyme leaves, lightly chopped
1/2 tsp. very roughly chopped fresh rosemary
Coarse salt and freshly ground black pepper

For the onions:
4 Tbs. unsalted butter
3 medium onions (about 6 oz. each), thinly sliced
1/2 cup medium-dry sherry (I prefer Amontillado)
Coarse salt and freshly ground black pepper
For the spinach and cheese:
12 cups tightly packed spinach (about 14 oz.)
Pinch ground white pepper (optional)
2 Tbs. unsalted butter
6 oz. Maytag blue cheese (or other good-quality blue, such as Roquefort)

For the filets:
6 portions beef tenderloin, 5 to 6 oz. each (choose equal-size center-cut portions)
Coarse salt and freshly ground black pepper
About 3/4 cup olive oil; more as needed

For assembly:
2 eggs, whisked together lightly with 1 tsp. water
Flour

To cook the Wellingtons:
2 eggs, whisked together lightly with 1 tsp. water
Prepare the pastry and fillings:

Roll and cut the pastry—Roll out each of the six pastry sheets to about 3/16-inch thick and, using a sharp knife, cut out a 10-inch round from each. From the scraps, cut out 12 leaves or other shapes to use as decoration. Layer the pastry rounds (and the decorations) between pieces of waxed paper or parchment, wrap the bundle well in plastic, and freeze again.

Cook the mushrooms—In a shallow bowl, toss the portabellas with the oil, garlic, thyme, and rosemary; cover and marinate in the refrigerator for 2 hours. Remove the portabellas from the marinade (they will have soaked up most of it) and season with salt and pepper. Heat a heavy skillet over medium-high heat, add a thin film of oil, and sear the portabellas on both sides until they've softened and browned, about 5 min. per side. Transfer them to paper towels and turn them once to drain both sides. When cool, cut them in half and cut the halves into strips about 1/2 inch thick.

Caramelize the onions—Melt the butter in a heavy sauté pan over medium heat. Add the onions, reduce the heat to medium low, and cook slowly, stirring occasionally, until well browned, soft, and sweet, 30 to 40 min. Add the sherry and cook until the pan is dry. Season with salt and pepper. Set aside to cool. Put the cooled onions in a colander set in a bowl; cover and refrigerate.

Prepare the spinach and cheese—Wash the spinach well and remove any stems. Prepare an ice-water bath. Put half of the spinach in a large sauté pan with a touch of water, 1 Tbs. of the butter, a pinch of salt, and a little ground white pepper if you like. Toss over medium-high heat, just until wilted and immediately put it in the water bath to shock the color and stop the cooking. Scoop it from the ice water and put it in a colander to drain. Squeeze the spinach, a small handful at a time, as much as you can and set it aside on paper towels to continue draining. Really squeeze and squeeze again—until the spinach for your filling is as dry as it can be. Repeat with the remaining spinach. Cover with plastic and refrigerate. Divide the blue cheese into six 1-oz. portions. Try slicing the whole piece into six slices; if it crumbles, just evenly divide the cheese. Cover and refrigerate.

Sear the filets—Season each portion of meat very generously on both sides with salt and pepper. Rub the seasoning into the meat to keep it in place. Pour 1/8 inch olive oil into a heavy sauté pan and heat it until just smoking. Sear the filets over high heat for 2 min. on each side until brown and crisp on the outside. Be sure your pan is very hot so that you just sear the meat and don't overcook it, and don't crowd the pan or the meat will steam rather than sear. (Check the sides to be sure the filets are still red in the middle.) Work in batches if necessary. Refrigerate the meat until chilled or until ready to use, up to 24 hours.

Assemble the Wellingtons:

Arrange the mushrooms, onions, spinach, cheese, and filets on your counter. Divide the portabella strips into six portions. Make sure the caramelized onions are well drained (they tend to collect liquid as they sit) and divide them into six portions. Squeeze the spinach again, divide it into six portions, and leave it on paper towels for any further draining. Cover a large rimmed baking sheet (that fits in your freezer) with kitchen parchment. Have a ruler, a small sharp knife, a pastry brush, and the egg wash on hand. Lightly flour one area of your counter (the cooler the area the better).

Pull a pastry round (and two decorative pieces) from the freezer and set it on the floured surface. Work quickly to maintain the integrity of the pastry. Lightly score a 4×3-inch rectangle in the center of the round; don't cut through the pastry. Extend the lines of the rectangle and cut out the corners of the round created by the line extensions, leaving a cross of pastry with a 4×3-inch center.

Give a spinach portion one last squeeze and spread half of it over the rectangle of pastry. Follow with a portion of blue cheese, a portion of onions, a filet, a portion of portabellas in one layer, and the rest of the spinach portion. Spread each layer as evenly as possible. Brush a light coating of the egg wash on each of the four panels of dough.

Check to be sure that the pastry is now pliable enough to fold without breaking (wait a minute or two if necessary). Fold each side panel onto the top, stretching the dough a bit if necessary to make the ends meet, or slightly overlapping if necessary. Follow suit with the top and bottom panels. Seal the panels together by pressing in the top panel where it meets the bottom panel and by pinching each of the four sides together where the panels meet. Don't worry if the package doesn't look gorgeous; it's more important that it's well sealed so the juices don't leak out.

Hold the package upright in your hands, securing all the seals and smoothing the rough spots to make the package into a neat, rounded block. Set it seam side down and gently press the top and sides to make them as even all the way around as possible. Brush the top and all sides with egg wash. Put the decorations on top and brush with egg wash. (You'll be cutting the package in half, so separate the decorations.) Set the Wellington on the parchment-lined baking sheet. Put the pan in the freezer to set and chill the pastry. Repeat with the 5 remaining Wellingtons, adding each to the pan in the freezer as you go. After they chill for an hour, wrap them well in plastic individually and return them to the freezer.

Cook the Wellingtons:

Heat the oven to 400°F. Make another egg wash. Remove the Wellingtons from the freezer (do not thaw) and brush them with a fresh coat of egg wash. Put them on a lightly greased rimmed heavy baking sheet and cook for 20 min. Reduce the heat to 350°F and cook until the internal temperature is 110°F (be sure the tip of the thermometer is inserted in the center of the package), another 35 to 40 min. Set them aside to rest for no longer than 10 min. The tightly enclosed beef will continue to cook out of the oven, so if you have to wait for more than 10 min., trim the sides of the pastry to let out some of the hot steam and reduce the internal temperature. Cut each Wellington in half, arrange on warm plates, and serve immediately.

Yield: 6 servings

One year ago: No-Bake Chewy Granola Bars
Two years ago: Spritz Cookies

Print This Recipe