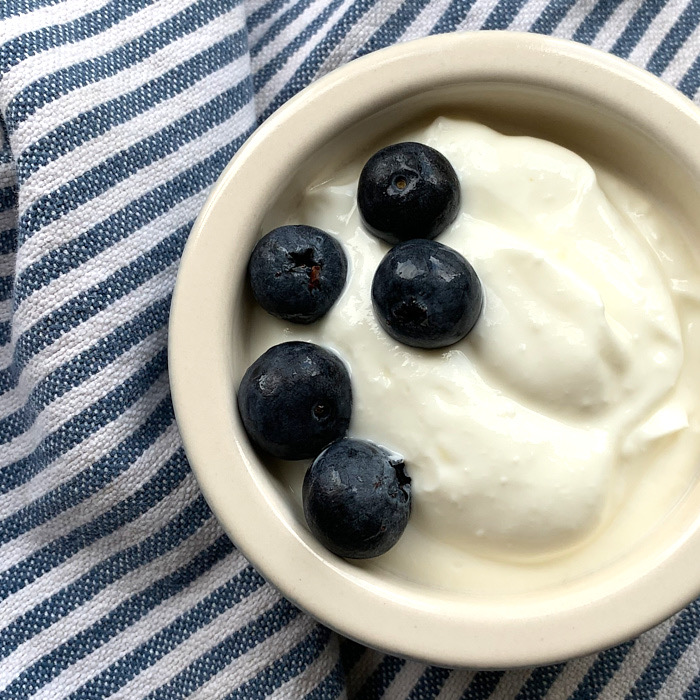 First things first – definitely start this in the morning because it can take up to twelve hours before it's finished.

I've read a lot of articles about making yogurt in an instant pot and since we are a big yogurt-eating family, I decided to try it. I found the process to be a little finicky and time consuming, but maybe it was just my Instant Pot. I followed the directions exactly, but the temperature of my milk never got to the requisite 180 degrees F. I tried several times, hoping that each time the milk might get a little warmer, but my milk never got over 175 degrees. Not sure why not, but because I wanted to make sure the recipe worked, I took the liner of the instant pot and put it in a big pan of water, which acted like a double boiler. I heated and stirred the milk until it cooked at 180 degrees for 10 minutes, I then went on with the rest of the recipe.

After 8+ hours in the Instant Pot, I did indeed end up with yogurt, and a nice tangy yogurt too. I used half of it to make this delicious frozen yogurt, and I strained the rest (using a paper towel in a strainer) to make Greek-style yogurt, which we're eating with fruit.

I'll definitely make this recipe again, especially if we have milk in the house that we're not drinking fast enough.



Instant Pot Yogurt

1/2 gallon pasturized whole milk
2 Tablespoons "starter" (plain or vanilla yogurt with active cultures)

Overview:
– Heat milk to 180 degrees F.
– Cool milk to 110 – 116 degrees F.
– Add starter to milk.
– Incubate anywhere from 4 – 12 hours
– Cool and refrigerate

Detailed Instructions:
Pour the milk into the Instant Pot and close the lid. The steam vent can be either open or closed. Press the "Yogurt" button, then press "Adjust" so the digital readout says "Boil". (Your Instant Pot model might make you then hit "Start." Mine didn't.)

The milk should cook for about 30 minutes and the temperature should be raised to 180 degrees F. The readout will say "Yogt" when it's done. Use a thermometer to make sure the milk gets this hot. I had to run this cycle a couple of times, then result to using the Instant Pot insert in a pot of water to make sure the milk was heated appropriately. If this happens to you, make sure the milk is at 180 degrees F for at least ten minutes.

Now cool the milk until is's between 110 and 116 degrees F. You can let this happen naturally (it might take up to an hour), or you can submerge the Instant Pot insert into an ice water bath. Monitor the temperature if you choose this method because it will drop pretty quickly. Skim any film off the top of the milk.

Put the 2 Tablespoons of "starter" yogurt in a medium bowl and add about 1/2 cup of the warm milk. Whisk until smooth, then pour into the rest of the milk and whisk to combine.

Set the insert back into the Instant Pot, secure the lid (again, it doesn't matter if the vent is open or closed) and hit the "Yogurt" button. The digital readout should say 8:00. If it doesn't, use the +/- buttons to get to 8:00. Your Instant Pot will then start to count UP as it incubates the yogurt. Once four hours have passed, you can check on your yogurt. The incubation process can take from four to twelve hours, depending upon how fresh your starter is. The fresher your starter, the faster you'll have yogurt, but it'll take at least four hours. When you check to see if the yogurt is done, carefully remove the lid. Condensation will have accumulated on it and you ideally don't want it running into your yogurt.

Your yogurt is done when it jiggles as a unit when you gently nudge the Instant Pot insert. You should also be able to tip the instant pot and not have the yogurt run (that said, there may be some liquid that runs a bit – that's just whey from the milk.) Let the yogurt cool to room temperature and put it into a container and then into the refrigerator. Let it chill for at least 6 hours.

If you would like to make Greek-style yogurt, pour the yogurt into a strainer lined with cheesecloth that it sitting over a mixing bowl. You might have to do this in batches. If you don't have cheesecloth, you can use a coffee filter or a white paper towel. The yogurt will drain and become thicker. The straining will take at least an hour, but you can strain it overnight if you like. If the yogurt seems a bit lumpy when it's strained, whisk it and it should become smooth.

Yield: between 2 and 3 cups of strained yogurt


One year ago:  "Chorizo" Tacos
Two years ago:  Black Bean Salad
Three years ago:  Farro and Roasted Red Pepper Salad
Four years ago:  Pistachio-Crusted Cod Fillets
Five years ago:  Secretly Healthy Fudge Balls
Six years ago:  Brigadeiros (Brazilian Fudge Balls)
Seven years ago:  Braised Coconut Spinach and Chickpeas with Lemon
Eight years ago:  Peanut Butter Cup Blondies
Nine years ago:  Strawberry-Orange-Vanilla Smoothie
Ten years ago:  Yucatán Pork Tenderloin
Eleven years ago:  Roasted Tomato Caprese Salad
Twelve years ago: Chick Pea Soup


Print This Recipe