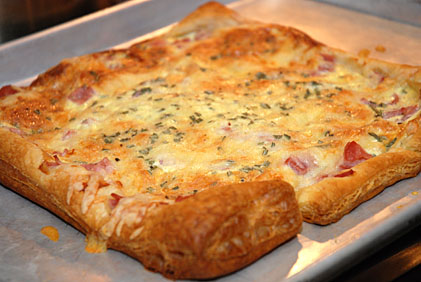 I'm not sure if this recipe is more like quiche or if it's more like pizza.   No matter what it is, it's really easy to make and it's delicious.   It has all the fixings for quiche, but when it cooks, it looks like a square pizza.
I made this recipe twice, once last week for the boys' school picnic and again last night after their open school night.   Last night each of the teachers spent an hour reviewing their curriculum and their classroom procedures.   Since I have four boys in the same school, I needed to enlist the help of my mother and my husband's aunt.   When the program was over, my mom and aunt came back to our apartment to debrief us on what went on in their classrooms.  (We were eternally grateful for their help.)   It was 8pm by then and I knew I needed to cook something for dinner, so I made this puff pastry quiche.   It really takes no time at all to throw together and once assembled, it bakes for 25 minutes and it's ready to be served.   This recipe makes 2 quiche that I cut into 4 pieces each.   
When I made this recipe last week, I completely forgot to add the sour cream.  Despite leaving out a key ingredient, it was still wonderful.   A couple of friends actually asked for the recipe.    When I made it with the sour cream last night, the egg mixture puffed up much more.   Either way is great.
The recipe calls for mushrooms.   I don't care for mushrooms so I left them out.   The quiche was still incredible.
One other tip – I think fresh rosemary is key to this recipe's great taste.   
Ham and Swiss Puff Pastry Quiche
Bon Appétit, November 2005

2 sheets frozen puff pastry (one 17.3-ounce package), thawed
1 cup diced ham
2 cups coarsely grated Swiss cheese
2 cups sliced mushrooms
2 large eggs
1 tablespoon chopped fresh rosemary
1/2 teaspoon ground black pepper
1/2 teaspoon salt
1/4 teaspoon ground nutmeg
1 cup sour cream

Preheat oven to 400°F. Unfold 1 pastry sheet on each of 2 baking sheets. Top with ham, cheese, and mushrooms (if using), leaving 1/2-inch plain border. Whisk eggs, rosemary, pepper, salt, and nutmeg in bowl. Whisk in sour cream. Spoon egg mixture over toppings on each pastry. Bake until pastries are puffed and golden and toppings are set, about 25 minutes.

Serves 8  (Diane's note:   I think it serves 6)

Print This Recipe