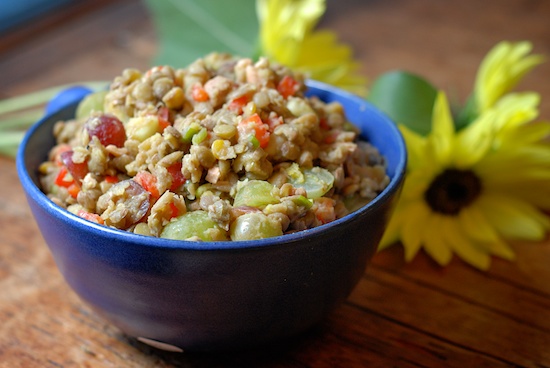 This is not a pretty salad, but it's definitely a delicious and a healthy salad.   It's so filling that it can even be served as a vegetarian entree.  I loved the combination of sweet and savory in one dish.   I enjoyed the different textures too. I didn't have hazelnuts on hand to I used cashews and they were a great addition to the salad.
This salad comes together in the time it takes to cook the lentils, which is about 20 minutes or so.   Once you start the lentils, you can make the rest of the salad as you're waiting for them to cook.   I served this about 30 minutes after I made it and it was delicious.   I'd say the flavors were even better when I had it for lunch the next day and for breakfast the following.   This dish makes wonderful left-overs.   This dish also makes a lot, so I recommend cutting it in half if you're using it as a side-dish for just a couple of people.
Lentils are incredibly healthy – loaded with protein, fiber, vitamins and minerals.   Health magazine calls lentils one of 5 healthiest foods. If you've never tried to cook with lentils, now's your chance!
Italian Lentil Salad
Recipe from Giada at Home by Giada de Laurentiis

Salad:
1 pound green lentils (recommended: Sabarot)
2 scallions, chopped
1 cup halved seedless green grapes
1 cup halved seedless red grapes
1 cucumber, peeled, seeded and diced
1 red bell pepper, seeded and diced
1/2 cup coarsely chopped skinned and toasted hazelnuts
2 teaspoons lemon zest (from about 2 lemons)

Vinaigrette:
1/3 cup fresh lemon juice (from 1 to 2 lemons)
1/3 cup extra-virgin olive oil
1/2 teaspoon kosher salt
1/4 teaspoon freshly ground black pepper

Bring a large pot of salted water to a boil over high heat. Add the lentils and cook until tender, stirring occasionally, about 18 to 20 minutes. Drain and let cool for 5 minutes. Place lentils and remaining salad ingredients in a large salad bowl.

Place the lemon juice in a small bowl. Slowly add the oil, whisking constantly, until combined. Season with salt and pepper, to taste

Pour the vinaigrette over the salad and toss well.

Yield: 4 – 6 servings (or 10 as a side dish)