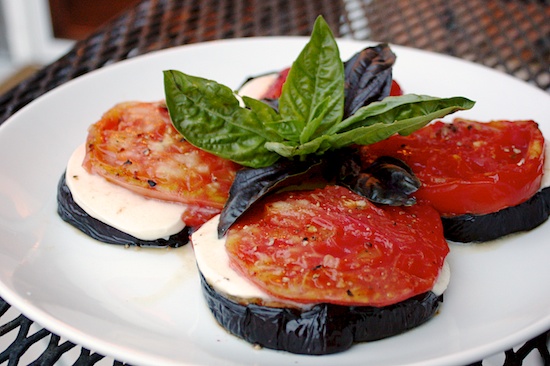 I received a single eggplant from my CSA last Saturday. My sister Gail was visiting and she told me that she had recently made eggplant stacks, so I decided to give them a try. I also remembered seeing an article earlier this summer in the NY Times about different ways to grill eggplant. You can check it out here.
These come together in no time at all, so they're a perfect side dish if you're busy.
Credit for this photo goes to my sister Gail who quickly snapped a couple of pictures of the dish before we ate it.

Italian-Style Eggplant
Inspired by Mark Bittman

2 small/medium eggplant
One pound fresh mozzarella, sliced
2 – 3 large tomatoes
1/3 cup olive oil
1 Tablespoon minced garlic
Basil
Salt and freshly ground pepper

Cut the eggplant into rounds that are 1″ thick. Discard the top and bottom of the eggplant. Make several shallow cuts on both sides of the eggplant rounds. Mix the olive oil with the minced garlic and rub it into both sides of the eggplant rounds. Slice the tomatoes into thick slices (about 3/4″ thick). Brush them with some of the remaining garlic oil and season with salt and pepper.

Turn on your grill – medium heat. Grill the eggplant (covered) until lightly browned and cooked through. Brush with extra garlic oil as they are cooking. It can take about 15 minutes for them to cook.

When the eggplant rounds are almost done, put the tomatoes on the grill. They will grill much more quickly. You want to make sure your tomatoes are cut on the thick side or they'll fall apart on the grill. Flip to grill both sides.

Make stacks of the cooked eggplant, mozzarella cheese and grilled tomatoes. Garnish with basil. Season with salt and pepper and serve.

Yield: 8 servings

One year ago: Chocolate Chip Meringues
Two years ago: Spaghetti and Meatballs
Three years ago: Black Beans with Rice and Cheese

Print This Recipe