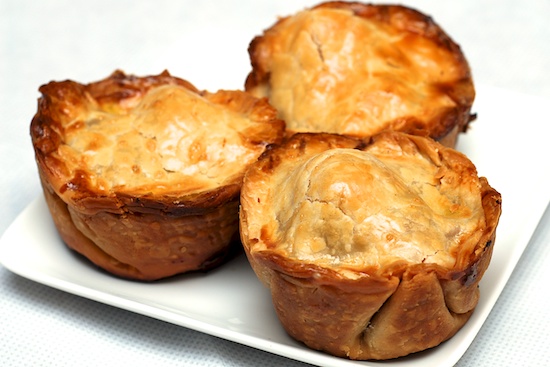 What a treat these little pies are!   We had them for dinner on Sunday night and I wish I had made more.  I do have some extra shrimp in the freezer, so I'll definitely make these again soon.   The insides have such a great combination of flavors – bacon, shrimp, fresh tomatoes, scallions and lime juice – yum! They're like mini shrimp pot pies.
One of the keys to this recipe is to use a barbecue or jerk sauce that you know you like. I will periodically find a barbecue sauce whose label I love, so I'll buy a bottle only to find out that I don't like it when I get it home. Before you try this recipe, make sure you love the sauce that you're going to use, otherwise you could be headed for a mediocre dinner.
Another tip: make sure you purchase two packages of refrigerated pie dough (unless you're making the dough yourself). One package is only enough to make six of these little pies. For some reason, I made a mistake and only purchased one package of pie dough, so I ended up with a lot of extra filling that I had to eat as a leftover for lunch. I actually thought the filling was delicious on its own and it made a great lunch. It would have been even better over a little brown rice, but it was definitely excellent on its own as well.
I didn't have the cookie cutters that are specified in the recipe, so I used some of my glass mixing bowls to cut the dough. I have a stack of nesting glass mixing bowls, so I got out my measuring tape to find that two of them were the perfect size for cutting the dough.
This recipe comes together very quickly, so it's great for a weeknight meal. I hope you like it as much as I did.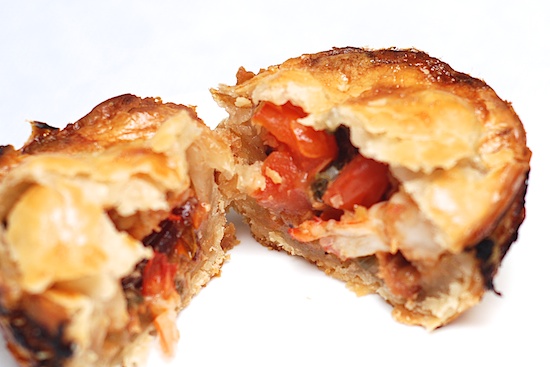 Jerk Shrimp Mini Pies
Recipe from Everyday by Rachel Ray

Cooking spray
8 slices bacon
3/4 pound large shrimp—peeled, deveined and cut into thirds
8 scallions, thinly sliced
1 cup grape tomatoes, quartered
2 tablespoons store-bought jerk sauce or barbecue sauce
2 teaspoons fresh lime juice
Two 14.1-ounce packages refrigerated pie dough
1 egg yolk, beaten with 1 tablespoon water

Preheat the oven to 375°. Coat a standard 12-cup muffin pan with cooking spray. In a large skillet, cook the bacon over medium heat until very crisp, about 8 minutes; drain on paper towels. Crumble the bacon into a medium bowl and toss with the shrimp, scallions, tomatoes, jerk sauce and lime juice.

Unroll the pie dough on a lightly floured work surface. Using a rolling pin, roll out the dough to extend by 1 inch in diameter. Using a 4 1/2-inch round cookie cutter and a 3-inch round cookie cutter, cut out 12 dough rounds for each size.

Carefully press the larger rounds into each muffin cup, crimping the edges to fit. Bake until just beginning to color, about 10 minutes. Remove from the oven and increase the temperature to 425°.

Divide the shrimp filling among the muffin cups. Brush the smaller dough rounds with some of the egg wash and place wet side down on top of the shrimp mixture, pressing the edges to seal. Brush more egg wash over the tops of the dough cups. Bake until golden-brown, about 15 minutes. Remove from the oven and let stand for 5 minutes before serving. Use a small metal spatula or butter knife to release the pies from the muffin cups.

Yield: 12 mini pies

One year ago: Chocolate Stout Cupcakes
Two years ago: Black and White Cookies
Three years ago: Zucchini Gratin

Print This Recipe