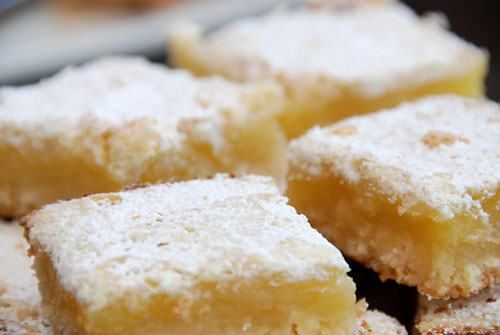 We had a bunch of friends and their children over for an informal dinner last night, so I made a big tray of lemon squares and a tray of blondies.   I grew up eating lemon squares.  My mom used to make them every now and then, and I loved them.   I haven't made lemon squares in years, so I had to search for a recipe.   After reviewing a number of recipes, I turned to my favorite chef, Ina Garten.   Her recipes never seem to fail me.
This is a very easy recipe.  You start by making a simple shortbread crust.  You then fill it with a homemade lemon filling which is very similar to a lemon curd.   Once cooled, you sprinkle them with confectioners sugar.  You have to exhibit a lot of self control not to eat the whole tray.
These lemon squares are both sweet and tart and it's hard to eat just one.    I'll even go so far as to say that they're better than my mother's.  And that's saying a lot because my mother is an excellent cook.  My sons and my husband loved them as well.  I hope you like them too.
Lemon Bars
Recipe by Ina Garten

For the crust:

nocoupons

1/2 pound unsalted butter, at room temperature
1/2 cup granulated sugar
2 cups flour
1/8 teaspoon kosher salt

For the filling:

nocoupons

6 extra-large eggs at room temperature
3 cups granulated sugar
2 tablespoons grated lemon zest (4 to 6 lemons)
1 cup freshly squeezed lemon juice
1 cup flour
Confectioners' sugar, for dusting

Preheat the oven to 350 degrees F.

For the crust, cream the butter and sugar until light in the bowl of an electric mixer fitted with the paddle attachment. Combine the flour and salt and, with the mixer on low, add to the butter until just mixed. Dump the dough onto a well-floured board and gather into a ball. Flatten the dough with floured hands and press it into a 9 by 13 by 2-inch baking sheet, building up a 1/2-inch edge on all sides. Chill.

Bake the crust for 15 to 20 minutes, until very lightly browned. Let cool on a wire rack. Leave the oven on.

For the filling, whisk together the eggs, sugar, lemon zest, lemon juice, and flour. Pour over the crust and bake for 30 to 35 minutes, until the filling is set. Let cool to room temperature.

Cut into squares or triangles and dust with confectioners' sugar.

Yield:  ~20 squares

Print This Recipe