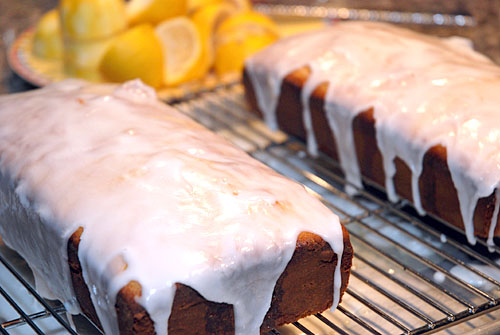 Yesterday I felt like making a pound cake.   I have never made one from scratch, and I think the last one I made was twenty-five years ago from a box.   I have fond memories of pound cake from when I was growing up, so I decided to try to make one from scratch.   I searched for recipes and found a number of them that called for a pound of everything – butter, sugar, flour, etc.    I then found this lemon cake recipe.  It looked like a pound cake, and I love lemon, and I just happened to have eight lemons in my refrigerator that needed to be used.  Thus, the cakes you see above.  They are really delicious and they more than satisfied my craving for pound cake.   Next, I'm going to see if the boys like it.   I'm sure they will, as they like all things sweet.
When I made the cakes, I followed the directions exactly, making fresh lemon zest and squeezing the lemons to make fresh lemon juice.   I think the easiest way to make lemon zest is to invest in a microplane grater.   Once you have one you'll never go back to using anything else to make zest.   When I squeeze my lemons, I use an old-fashioned citrus juicer.  If you have a better way to squeeze citrus fruit, I'd love to hear about it.
This cake is made in a number of steps.  The first step seemed funny to me.  The recipe calls for buttering and flouring the pan, then covering the bottom of the pan with parchment paper if you wish.   I have never buttered and floured a pan AND used parchment paper at the same time, but I followed the directions, and the cake came out of the pan like a dream.   Once out, the parchment easily peeled off the cake.
The recipe calls for having both the butter and the eggs at room temperature.   Typically when I bake, I add all of the ingredients at whatever temperature they are when I pull them out of the refrigerator, but this time I followed the directions.  I did some reading and I learned that it's really important to have eggs at room temperature, especially when adding them to a sugar/butter mixture as you do when making a cake.  If you don't, your cake can apparently be grainy, dry, uneven or even sink.  I'm going to try eggs at room temperature the next time I make chocolate chip cookies and see if it makes a difference.
Once out of the oven, the recipe calls for pouring a hot sugar syrup over the top of the cake.   I found that quite a bit of my sugar syrup rolled off the cake, but it didn't seem to matter.  The cake has a great lemony flavor.
The final step involves a sugar glaze which is very tasty.   Once I poured it onto the cakes I licked the bowl clean!
Lemon Cake
From Barefoot Contessa Parties! by Ina Garten

1/2 pound (2 sticks) unsalted butter, at room temperature
2 1/2 cups granulated sugar, divided
4 extra-large eggs, at room temperature
1/3 cup grated lemon zest (6 to 8 large lemons)
3 cups flour
1/2 teaspoon baking powder    
1/2 teaspoon baking soda 
1 teaspoon kosher salt
3/4 cup freshly squeezed lemon juice, divided
3/4 cup buttermilk, at room temperature
1 teaspoon pure vanilla extract

For the glaze:

2 cups confectioners' sugar, sifted
3 1/2 tablespoons freshly squeezed lemon juice

Preheat the oven to 350 degrees F. Grease and flour 2 (8 1/2 by 4 1/4 by 2 1/2-inch) loaf pans. You may also line the bottom with parchment paper, if desired.

Cream the butter and 2 cups granulated sugar in the bowl of an electric mixer fitted with the paddle attachment, until light and fluffy, about 5 minutes. With the mixer on medium speed, add the eggs, 1 at a time, and the lemon zest.

Sift together the flour, baking powder, baking soda, and salt in a bowl. In another bowl, combine 1/4 cup lemon juice, the buttermilk, and vanilla. Add the flour and buttermilk mixtures alternately to the batter, beginning and ending with the flour. Divide the batter evenly between the pans, smooth the tops, and bake for 45 minutes to 1 hour, until a cake tester comes out clean.

Combine 1/2 cup granulated sugar with 1/2 cup lemon juice in a small saucepan and cook over low heat until the sugar dissolves. When the cakes are done, allow to cool for 10 minutes. Remove the cakes from the pans and set them on a rack set over a tray or sheet pan; spoon the lemon syrup over them. Allow the cakes to cool completely.

For the glaze, combine the confectioners' sugar and the lemon juice in a bowl, mixing with a wire whisk until smooth. Pour over the tops of the cakes and allow the glaze to drizzle down the sides.

Yield:  2 loaves

Print This Recipe