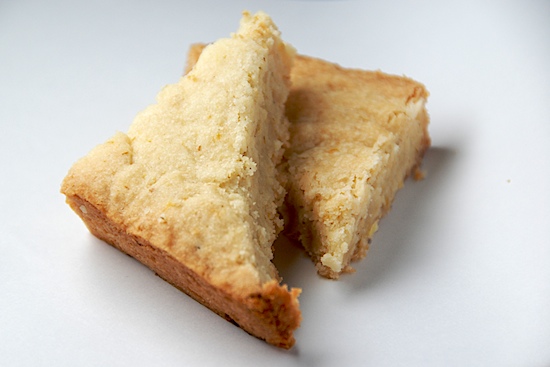 These cookies are incredibly simple and really good. When I tried one, I longed for a cup of tea to drink with it. They're a perfect mid-afternoon snack with a cup of coffee or tea. I love the subtle hint of chamomile and lemon in the cookies, and the fact that they're not terribly sweet. They're slightly crumbly, but rich.
I only found one problem with the cookies – I wanted to eat them all. No kidding. I truly believe I could have eaten the entire pan in one sitting. My boys loved them too, but they're not too hard to please when it comes to sweets.
Give these a try if you like shortbread and if you're having some friends over for tea or coffee.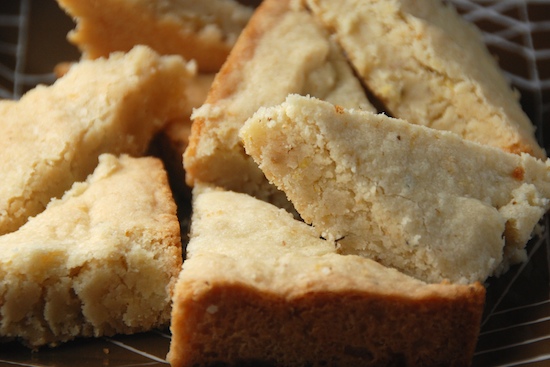 Lemon Chamomile Shortbread
From realsimple.com

1 cup (2 sticks) unsalted butter
1/2 cup sugar
1/4 teaspoon salt
Grated zest from 1 lemon
1 teaspoon loose chamomile tea (I ground mine in a mini food processor)
2 1/4 cups all-purpose flour

Heat oven to 325° F.   Combine the butter, sugar, and salt in a mixer and beat until light and fluffy.   Blend in the lemon zest, loose tea, and flour until smooth. Press into an 8-inch square cake pan.

Bake 30 minutes or just until the shortbread begins to turn golden.   Cut into 9 squares, then cut each square into 2 triangles.   Cool completely on a wire rack. Remove the shortbread cookies from the pan.

Yield: 18 cookies

Print This Recipe