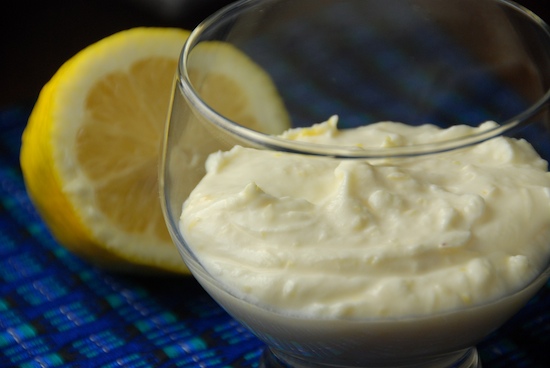 This dessert takes no time at all to whip up, and it's really, really tasty, especially if you like lemon.   Three out of my four boys loved it, even the little one, who won't eat yogurt or pudding.    He wanted to try it because he thought I was holding a bowl of cake batter.   At first, he wasn't so sure about it because it's quite lemony, but it didn't take him long to ask for more.    This dessert lasted less than an hour in our apartment last night.   Granted, it doesn't make a ton, but what it did make disappeared almost into thin air in no time.
I seem to be on a lemon kick these days.  This is the third lemon recipe I've made recently.   My next post will be for an excellent lemon risotto I made.
When I made the recipe, I didn't use any heavy cream.   I imagine it would have made the mousse a little smoother if I had.
If you like mousse, and you need a quick tasty treat, you must try this recipe.

Lemon Mascarpone Mousse
Recipe by Mark Bittman from Kitchen Express

1 lemon, zested and juiced
1 cup mascarpone cheese
1/4 cup sugar
1 – 2 Tablespoons heavy cream (if needed)

Whisk together the lemon zest, lemon juice, sugar and mascarpone cheese until smooth. If necessary add a small amount of heavy cream to help smooth out the mousse. Chill in the refrigerator and serve in pudding cups. Drizzle with honey if desired.

Yield: 3 servings

Print This Recipe