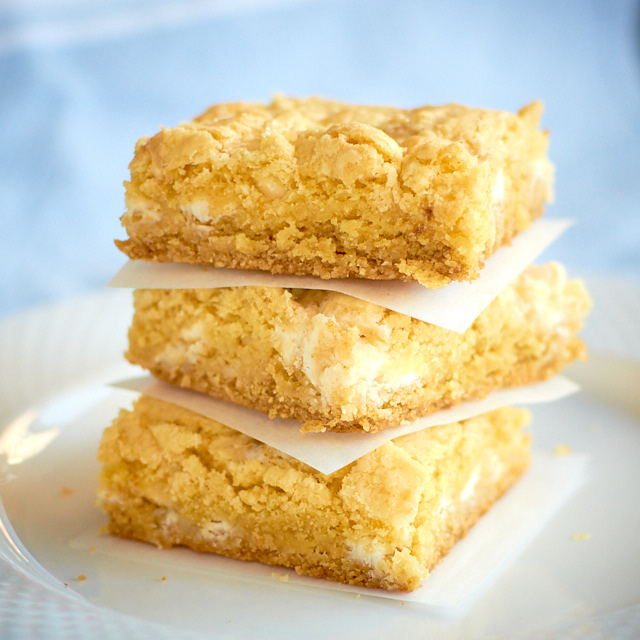 My lemon-loving son saw a picture of these bars on my computer – I think I had a Pinterest page open – and he begged me to make them. He is a lemon fanatic as long as there is no pulp anywhere to be found in the recipe. When he saw that this was made from a cake mix, he was thrilled, knowing that there wouldn't be any pulp or zest in the mix. Most of the lemon recipes that I make are loaded with pulp and zest, two things he hates to find when he bites into something
I was skeptical about these bars, knowing that they started with a cake mix. I couldn't imagine that they'd be great, but I was very much mistaken. The bars disappeared in no time and received rave reviews from everyone who tried them. My husband commented that he likes these more than the regular lemon bars that I make (an Ina Garten recipe!) They're a perfect dessert for this season because the weather has finally warmed up in NY and spring has finally sprung.
You can't tell from the photo, but these bars have the consistency of a chewy brownie or blondie.
When you make these, definitely line your pan with parchment paper. If you don't the sweetened condensed milk will stick to the side of your pan and make the bars difficult to remove. For some reason, the milk doesn't stick to parchment that's lightly sprayed with cooking oil.
These are a prefect spring or Easter treat!
Lemon White Chocolate Bars
Recipe from Crazy for Crust

1 box lemon cake mix
1/2 cup butter (1 stick), softened
1 egg
1/2 cup sweetened condensed milk
1 cup white chocolate chips

Preheat oven to 350F. Line a 9×9 baking pan with parchment paper (make sure all four sides of the pan are covered – I use two rectangular pieces of parchment allowing each piece to have some some overhang) and spray with cooking spray.

Mix butter with a stand mixer until smooth. Mix in cake mix and egg; beat until combined. Batter will be thick like cookie dough.

Press 2/3 of the mixture in the bottom of the prepared pan. Sprinkle white chocolate chips over the top and drizzle the sweetened condensed milk over the top of the chocolate. Break up the remaining dough and crumble it over the top of the bars. Press lightly to seal (mine didn't seal completely.)

Bake for 28-33 minutes, until slightly browned. Remove from oven. Cool completely before cutting.

Yield: 9 – 12 bars

One year ago: Oatmeal Scotchies
Two years ago: Coconut Chocolate Chip Magic Granola Bars
Three years ago: Creamy Curried Cauliflower Soup
Four years ago: Chocolate Buttercream Frosting
Five years ago: Chipotle Quinoa with Corn and Black Beans
Six years ago: Oatmeal, Cranberry and Chocolate Chunk Cookies
Seven years ago: Crisp Roasted Potatoes
Eight years ago: Dinner Spanakopita
Nine years ago: Grandma Sachs' Crumb Cake

Print This Recipe