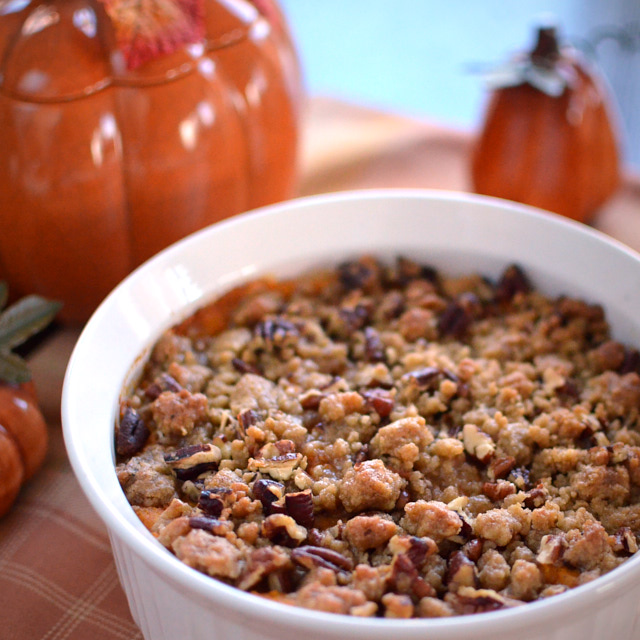 I love sweet potato casserole at Thanksgiving, but I find that it's often more like dessert than a side dish. Don't get me wrong, when a sweet potato casserole is sweet, it's certainly delicious, but I wanted to try to make a casserole that was a little healthier. Sweet potatoes have a natural sweetness that doesn't always need to be enhanced with a lot of brown sugar, unless you're turing the sweet potatoes into pie for dessert.
For this casserole, I decided to leave out all of the sugar that was supposed to be added to the sweet potato mixture. I wanted to see how a slightly healthier version would fare. I didn't modify the topping. That part of the casserole is still sweet.
Serve yourself a scoop of this casserole, put a pat of butter on it with a little salt and you have a delicious, slightly sweet, slightly salty side dish. A nice combination and certainly a bit healthier than your traditional sweet potato casserole.
You can easily double this recipe and bake it in a 9×13 baking dish.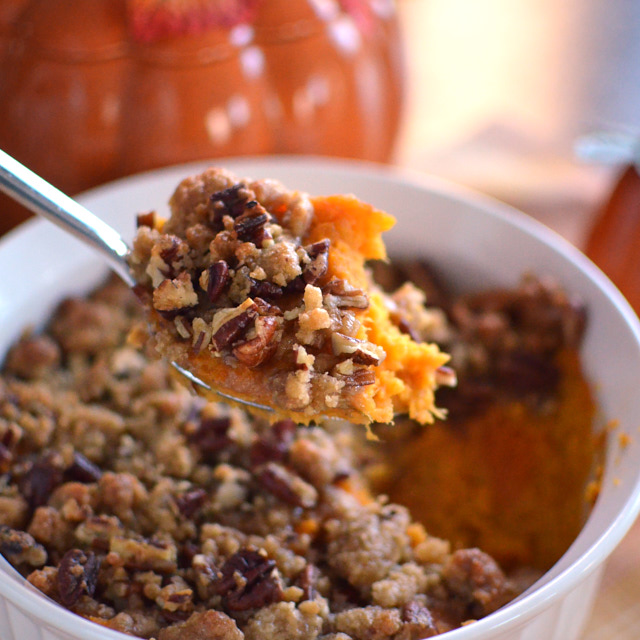 (Less Sweet) Sweet Potato Casserole with Butter Pecan Crumble Topping
Recipe adapted from Averie Cooks

Filling:
2 pounds raw sweet potatoes, diced into large chunks and boiled
1 large egg
2 Tablespoons unsalted butter, softened
1/4 cup milk
1/2 teaspoon vanilla extract
1/4 teaspoon salt, or to taste
1/8 teaspoon ground nutmeg
1/8 teaspoon cinnamon

Topping:
2 1/2 tablespoons unsalted butter, melted
1/3 cup light brown sugar, packed
1/4 cup all-purpose flour
1/8 teaspoon salt, or to taste
1/2 cup roughly chopped pecans

In a large stockpot, boil the sweet potatoes until they are fork-tender, about 15 minutes. Drain well and transfer to a large bowl.

Preheat oven to 350F and spray a 1.5 quart baking dish with cooking spray; set aside.

To the sweet potatoes, add the egg, butter, milk, vanilla, salt, nutmeg, and cinnamon, and beat with a handheld electric mixer on medium-high speed until combined and fluffy. Spoon the sweet potato mixture into the baking dish, smoothing the top lightly with a spatula; set aside.

Topping – To a large microwave-safe bowl, add the butter and heat on high power to melt, about 30 seconds.

Add the brown sugar, flour, salt, and toss with a fork or your fingers until moist crumbs form.
Add the pecans and toss to incorporate.

Crumble the topping over the sweet potato filling and bake for approximately 45 minutes (or cover and refrigerate for up to 24 hours if you're prepping it in advance), or until top is lightly golden browned, set on the edges, and mostly set in the center. Mine took 50 minutes because I started with it cold from the fridge because I prepped it the night before. Serve immediately. Left-overs will keep airtight for up to 1 week in the fridge.

Yield: 4-6 servings

One year ago: Tomato, Melted Leek and Feta Galette
Two years ago: Soft Snickerdoodles
Three years ago: Mallobars
Four years ago: Shredded Brussels Sprouts
Five years ago: Halloween Treats
Six years ago: Baked Flounder with Tomatoes and Basil
Seven years ago: Red Lentil Soup with Lemon
Eight years ago: Spinach and Chicken Tortilla Bake
Nine years ago: Pumpkin Chocolate Chip Cookies

Print This Recipe