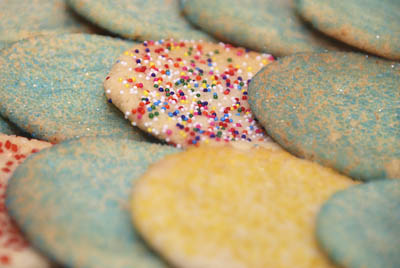 I love to make cookies and the two standards that I make all the time are my cinnamon chocolate chip cookies and sugar cookies. I'm not a huge fan of the sugar cookies that you need to roll out then cut with cookie cutters. I also don't like the recipes that require you to chill the batter for hours before you bake it. This recipe is for drop sugar cookies, and they're the best sugar cookies I've ever had. I've never even purchased a better sugar cookie from a bakery.
These are fun to make with children. My son Andrew LOVES to help me make these. He's in charge of the colored sugar, and when he's involved, we always use the most festive colors. I hope you like them as much as I do.
Chewy Sugar Cookies
Adapted from recipe by Linda McClure

2 3/4 cups all-purpose flour
1 teaspoon baking soda
1/2 teaspoon baking powder
1 cup softened butter
1 1/2 cups white sugar
1 egg
2 teaspoons vanilla extract
3 to 4 tablespoons milk
Colored sugar for decorating

Preheat oven to 375 degrees F.In a small bowl, stir together flour, baking soda, and baking powder. Set aside.

In a large bowl, cream together butter and sugar until smooth. Beat in the egg and vanilla. Gradually blend in dry ingredients. Add enough of the milk to moisten the dough and make it soft, not wet. I typically end up adding about 2 tbsp. of milk.

The original recipe suggests that you roll rounded teaspoons of dough into balls and place them on an ungreased cookie sheet. I use my ice cream scoop, and place a ball of dough either into my hands, or onto the ungreased cookie sheet. If the dough is in my hands, I flatten it into a round disk about 1/2 inch thick. I then place it into a small bowl that contains the colored sugar. Once one side is covered with colored sugar, I lift it out of the bowl and place it on the cookie sheet, sugar-side up. If you use the ice cream scoop and put the dough directly on the cookie sheet, flatten it with the bottom of a glass and either take the flattened cookie and place it in the bowl of colored sugar, or alternatively, you can sprinkle sugar on top of the cookies. I like to put the flattened round piece of dough directly into the sugar because the result is a more even covering of sugar.

Bake for 8 to 10 minutes or until slightly golden around the edges. Let stand for 2 minutes before removing to cool on a rack.

When these cookies come out of the oven, they may look a little underdone in the middle. That's OK! They also may look puffy when they come out of the oven. Don't worry, they should flatten out in the 2 minutes that they're cooling on the cookie sheet.