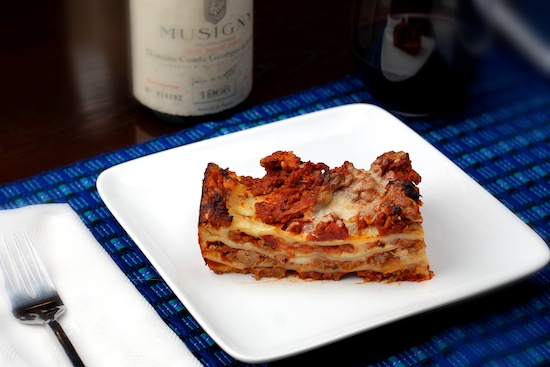 If you like a meaty, cheesy, hearty lasagna, this is a terrific recipe.   I make it annually on Halloween when some friends come over with their children for trick or treating.   I also make it when I want something I can make in advance to serve a crowd.  I have been making it for years, but this is the first time we got around to photographing it.
The recipe calls for ground beef and Italian pork sausage.   I have made it this way many times.   I have also made it using ground turkey and spicy turkey sausage instead of the beef/pork sausage.   Equally delicious.  I have also mixed ground beef with turkey sausage.   All of them were really delicious, so you can play with this recipe depending upon what type of meat you have on hand.
One of my sons will eat pizza, and he also eats meat, but will go no where near this dish and I don't know why. I explain that it's basically the same as pizza, just in a slightly different form. He's not buying it, and neither are his brothers.
Lots O'Meat Lasagna
Recipe from Paula Deen at Food Network

1 1/2 pounds ground chuck
1 pound ground Italian sausage
1 onion
2 cloves garlic, minced
2 teaspoons ground oregano
1 teaspoon ground basil
1/4 teaspoon salt
1/4 teaspoon pepper
1 (14.5-ounce) can diced tomatoes with basil, garlic, and oregano
2 (15-ounce) cans tomato sauce
1 (6-ounce) can tomato paste
1 1/2 cups small curd cottage cheese
1 (5-ounce) package grated Parmigianno-Reggiano
2 tablespoons freshly chopped parsley leaves
2 large eggs, lightly beaten
9 oven-ready lasagna noodles
2 (8-ounce) packages shredded mozzarella

Preheat oven to 350 degrees F.

In a large saucepan, combine ground chuck, sausage onion and garlic. Cook over medium heat until meat is browned and crumbled; drain.

Return meat to pan and add oregano, basil, salt and pepper. Add tomatoes, tomato sauce and paste. Bring to a boil, reduce heat and simmer 30 to 45 minutes.

In a small bowl, combine cottage cheese, Parmesan, parsley, and eggs.

Spoon 1/4 of sauce into bottom of a 13 by 9 by 2-inch baking pan. Place 3 uncooked lasagna noodles on top of sauce. Do not overlap noodles. Spread 1/3 of cottage cheese mixture over noodles, top with 1/4 of sauce and 1/3 mozzarella cheese. Repeat layers, ending with sauce, reserving 1/3 of mozzarella cheese.

Bake 45 minutes. Top with remaining cheese and bake 15 minutes or until hot and bubbly. Let rest 10 minutes before serving.

Yield: 6 – 8 servings

One year ago: Hot Fudge Sauce
Two years ago: Chocolate Candy Cane Cookies
Three years ago: Mac and Cheese
Four years ago: Mahogany Beef Stew with Red Wine and Hoisin Sauce

Print This Recipe