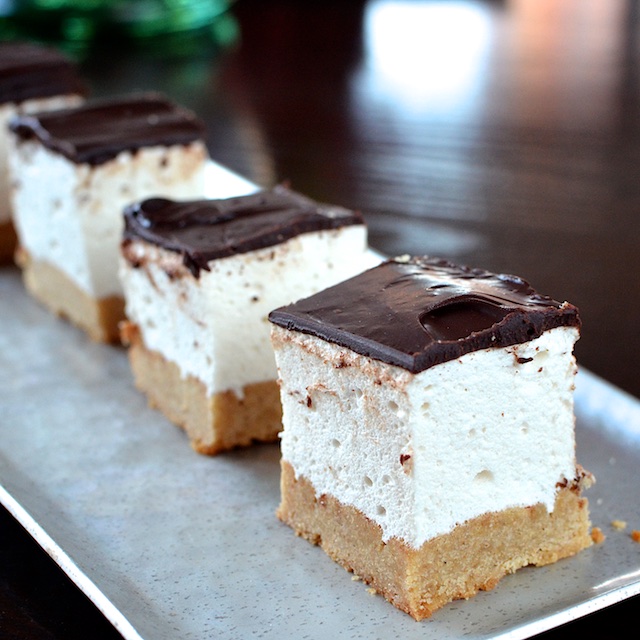 My sisters know that I love to bake so they periodically send me recipes to try.   This was one of them.   I noted that the original recipe is from Melissa Clark, a NY Times food columnist whose recipes I have enjoyed in the past, so I figured I'd give it a shot.
My assessment:   this recipe is for those those who love to bake and who have a lot of patience.   They take a LONG time to make. They literally took me all day to make. There are many steps involved and long periods of waiting between them.
Did I like them?   I thought they were pretty good.   Not my favorite dessert.   Did my boys like them?   Yes. They LOVED them.  Would I make any changes the next time I make them?   Yes.   I'd leave the cinnamon out of the cookie base.   I'd also leave some of the honey out of the marshmallow layer.   I'm more of a vanilla marshmallow fan than a honey one.  I thought the chocolate layer was good.
If you make these, give the bars time to set and the chocolate layer a chance to harden before cutting them or you'll have a chocolatey mess.  The chocolate will smear all over the marshmallow layer and they won't be pretty at all.
Note: you need a candy thermometer for this recipe.
Mallobars
Recipe from Cook This Now by Melissa Clark via Project Foodie

For the graham cracker base:

1 cup (2 sticks) unsalted butter
1/4 cup firmly packed dark brown sugar
1/4 cup granulated sugar
1/4 cup honey
1 1/2 cups whole wheat flour
1 cup all-purpose flour
1 teaspoon kosher salt
1/2 teaspoon ground cinnamon

For the marshmallow layer:

3 envelopes unflavored gelatin (about 3 tablespoons)
1 cup cold water
2 cups granulated sugar
1/4 cup honey
2 large egg whites
1/4 teaspoon kosher salt
1 tablespoon vanilla extract

For the chocolate glaze:

9 ounces bittersweet chocolate, chopped
3/4 cup heavy cream

First, make the graham cracker base. In the bowl of an electric mixer, cream the butter, sugars, and honey until smooth. In a medium bowl, combine the flours, salt, and cinnamon. Add the dry ingredients to the mixer and beat until the dough just comes together.

Wrap the dough in plastic and pat into a disc. Chill the dough for at least 1 hour and up to 2 days.

When ready to bake, preheat the oven to 325°F. Line a 9  13-inch baking pan with foil or parchment paper. On a lightly floured surface, or in between two sheets of parchment paper, roll out the dough into a rectangle that just fits the prepared pan. Carefully transfer the dough to the prepared pan. Squish it to fit if it starts to tear (the dough is soft). Prick dough all over with a fork. Bake the graham cracker base until golden brown, 18 to 20 minutes. Allow the crust to cool completely before topping with the marshmallow. (The graham cracker base can be made a few days ahead; store, covered in foil, at room temperature.)

While the graham cracker base cools, prepare the honey marshmallow. Place the gelatin in the cold water to bloom. In a saucepan over medium heat, cook the sugar, honey, and 1/2 cup water, stirring until the sugar dissolves, until the mixture reaches 240°F on a candy thermometer.

In the bowl of an electric mixer, whisk the egg whites and salt until soft peaks form. When the sugar mixture has come up to temperature, carefully pour it into the egg whites while whisking. Continue whisking until the mixture has cooled slightly, about 1 minute, and add the gelatin and water mixture and the vanilla. Continue whisking until the mixture begins to thicken and quadruples in volume, 5 to 7 minutes. Scrape the marshmallow onto the graham cracker base and smooth the top with a spatula. Allow the marshmallow to set for 4 hours or overnight at room temperature.

To prepare the chocolate glaze, place the chocolate pieces in a bowl. In a saucepan over medium-high heat, bring the cream just to a boil. Pour the cream over the chocolate and whisk until the chocolate has melted and the glaze is smooth and shiny. Pour the glaze onto the set marshmallow and smooth with a spatula. Allow the glaze to set, about 30 minutes, before cutting into squares. If you're in a hurry, put the bars in the refrigerator to cool the chocolate.

Yield: ~ 18 2-inch bars

One year ago: Shredded Brussels Sprouts
Two years ago: Halloween Treats
Three years ago: Baked Flounder with Tomatoes and Basil
Four years ago: Red Lentil Soup with Lemon
Five years ago: Spinach and Chicken Tortilla Bake
Six years ago:Pumpkin Chocolate Chip Cookies

Print This Recipe