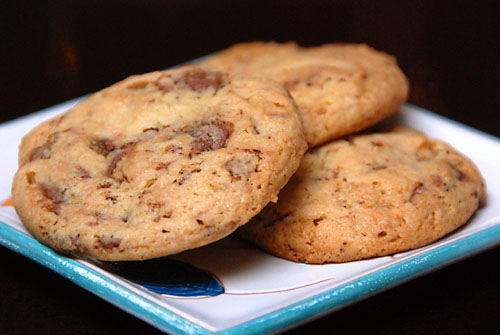 Over the last month or so when I was looking for cookies to make for Christmas, I came across a series of recipes for Malted Milk Ball Cookies.   I'm a HUGE malted milk ball fan, and the recipes looked intriguing.   A number of the recipes didn't have any eggs, which seemed odd to me.  Several others included ingredients that I didn't like, so I took what I thought looked like the best parts of a number of recipes and combined them for what I thought was a pretty good cookie.   I have to admit that these cookies aren't one of my all-time favorites, but I received so many compliments on them that I figured it was worth posting the recipe.  I thought they were missing a little something – a little more salt perhaps?   They might be tasty with a few grains of Maldon Sea Salt on top. I think I'll try this if I make these again.
This recipe calls for crushed malted milk balls.   To crush mine, I started by putting the malted milk balls in the freezer while I mixed up the batter.   I then put them in a ziploc bag and crushed them with a rolling pin.   A couple of taps on the top of each ball did it for me.   I did them in a several batches until I ended up with 2 cups.
I'll be anxious to hear if you like them.
Malted Milk Ball Cookies

2 1/4 cups white flour
1/2 teaspoon baking soda
1 teaspoon baking powder
1/2 teaspoon salt
3/4 cup butter, softened
1/2 cup sugar
1/2 cup brown sugar
1/2 cup milk
2 teaspoons vanilla
1 egg
2 cups crushed malted milk balls

Preheat oven to 350 degrees F.

In a bowl, cream the butter, sugar and brown sugar.    Mix in egg, vanilla and milk.     Combine the dry ingredients and add to the creamed mixture until the flour is completely mixed in.   Don't overmix.    Stir in the crushed malted milk balls.

Shape into 1 1/2 inch balls (it's easiest to do this using an ice cream scoop like this one).   Place 2 inches apart on a cookie sheet (I always use the air-insulated kind as they prevent the cookies from burning on the bottom.)   Bake for 10 – 12 minutes or until set.

Cool for several minutes on the cookie sheet, then transfer to a wire rack to cool completely.

Yield:  ~3 dozen cookies.

Print This Recipe