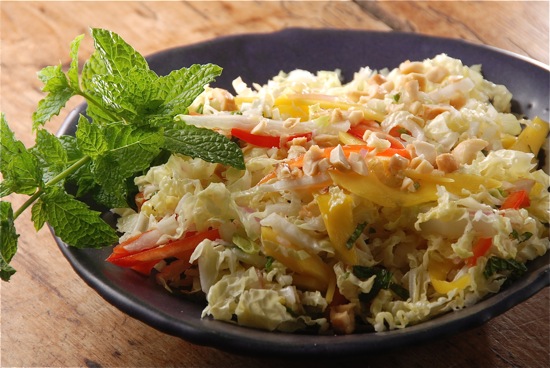 This is my favorite new recipe of the summer.   I can't tell you how many times I've made it already.   It always gets rave reviews.   The flavors are really fresh and they just explode in your mouth.
Mango is one of my favorite fruits to add to a salad.   I add it to my other favorite salad in chunks, but I julienne it for this one.   I wasn't sure how to julienne a mango, so I peeled it, then sliced off long, thick strips of the flesh.  I then cut those strips into long, thin pieces.   Maybe not the best way to do it, but it worked.
When I julienned the red pepper, I made sure that the pieces were no longer than 2 inches long.    If you have a mandoline, I recommend using it to cut the red onion so you end up with paper-thin slices.   I'm not a fan of huge pieces of raw onion in my salads.  As with most recipes, freshly squeezed limes are key to this recipe.   Fresh mint is also important.
This is a perfect summer recipe because no cooking is involved.   It's just a lot of cutting, then assembling.
I found the recipe on a great blog called Smitten Kitchen. I have made many of the recipes that I have found there, and one is better than the next.
You must try this recipe.    I could eat it at every meal and not get sick of it.
Mango Slaw with Cashews and Mint
Recipe from SmittenKitchen.com

2 mangoes, peeled, pitted and julienned
1 to 1 1/4 pounds Napa cabbage, halved and sliced very thinly
1 red pepper, julienned
1/2 red onion, thinly sliced
6 tablespoons of fresh lime juice, from about two limes
1/4 cup rice vinegar
2 tablespoons oil of your choice
1/2 teaspoon salt
1/4 teaspoon red pepper flakes, or to taste
1/4 cup thinly sliced fresh mint leaves
1/4 cup toasted cashews, coarsely chopped

Toss mangoes, cabbage, pepper and onion in a large bowl. Whisk lime juice, vinegar, oil, salt and red pepper in a smaller bowl and pour over slaw. You can either serve this immediately or let the flavors meld for an hour in the fridge. Before serving, toss with mint leaves and sprinkle with cashews.

Yield:  6 servings

Print This Recipe