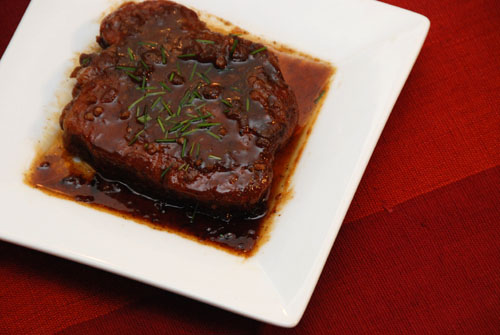 I have made these pork chops several times now, and I love them for a couple of reasons –   they're incredibly delicious and they're really easy to make.   The sauce is tangy and a bit sweet – a little like a barbeque sauce.
I brown the pork chops, make the sauce and throw the pork chops in to cook while I get the boys ready for bed.  We're on the verge of starting family meals, but haven't quite gotten there yet.  We still feed the boys at about 5:30pm, get them ready for bed and put them to bed, then we eat ourselves.    Now that the boys are a little older, we plan to start eating together.
This recipe is so tasty that I made it twice in rapid succession, and I'm off to Costco tomorrow, so I plan to buy a big package of bone-in pork chops so I can make it again.
This recipe came from a great book that I received for Christmas. There are many more recipes I want to try in it, so you'll see my favorites posted here over the next couple of months, while it's still slow-cooker weather (i.e. it's still cold outside.)
I highly recommend that you try this recipe – it really is incredibly tasty.   But try it when you have some time.    It takes a while to make.   Elapsed time is 2+ hours, because the pork chops simmer for ~ 2 hours.
Maple-Braised Pork Chops
From Williams Sonoma Essentials of Slow Cooking

3 tablespoons all-purpose flour
Salt and freshly ground pepper
4 bone-in pork loin chops, each about 12 oz. and 1 1/2 inches thick
3 tablespoons canola oil
1 small yellow onion, finely chopped
1 clove garlic, minced
2 teaspoons chile powder
3/4 cup chicken broth
3/4 cup maple syrup
3 tablespoons apple cider vinegar
2 tablespoons Worcestershire sauce
2 tablespoons finely chopped fresh chives

On a plate, stir together the flour, 3/4 teaspoon salt and 1/2 teaspoon pepper.  Turn the pork chops in the seasoned flour, shaking off any excess.  In a large frying pan over medium-high heat, warm the canola oil.  Working in batches if necessary, cook the pork chops until golden brown, about 4 minutes per side.  Remove from the pan and set aside.

Pour off all but a thin coating of fat in the pan and return it to the medium-high heat.  Add the onion, garlic and the chile powder and saute until fragrant, about 30 seconds.  Pour in the broth and deglaze the pan, stirring and scraping up the browned bits on the bottom of the pan with a wooden spoon.  Stir in the maple syrup, vinegar, and Worcestershire sauce and bring to a boil.

Transfer the pork chops to a large Dutch oven.  Pour the maple syrup mixture over the chops to cover them.  Partially cover and cook over very low heat until the pork chops are very tender and the sauce has thickened.  This should take about 2 hours.

Arrange the chops on warmed plates.  Top with the sauce, garnish with the chives and serve at once.

Yield:  4 pork chops

Print This Recipe