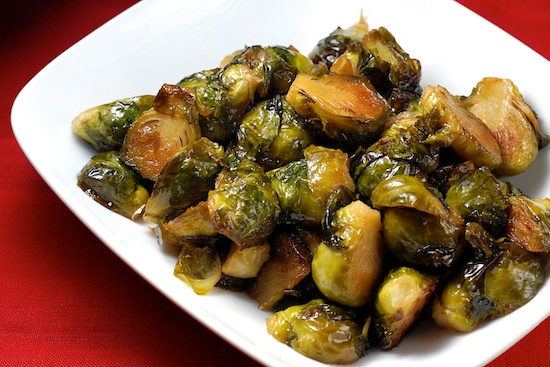 We're in the height of brussels sprouts season here in NY and this recipe is particularly delicious. It's so good that I've made it twice in the last week. I think this is now my favorite way to eat them. This recipe has a little kick from the cayenne pepper an a little sweetness from the maple syrup, but they're not overly sweet. There's just enough sweetness to complement the cayenne and the vinegar in the recipe.
When I made these last night, I doubled the cayenne by accident and boy did they have a kick! I really liked them though. I'm a fan of spicy food.
When you're making these, don't overcook them. If you overcook brussels sprouts, they'll start to release an unpleasant, sulphurous odor. They'll also get very mushy. Ideally, you want them crisp tender. This will yield the best flavor and the least odor.
I don't even think I need to say this, but just for the record, the boys would have nothing to do with these. They really don't know what they're missing.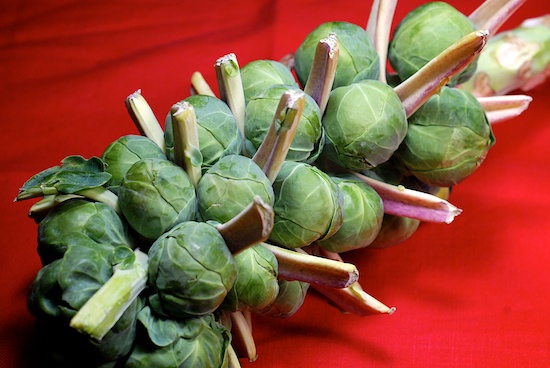 Maple-Glazed Brussels Sprouts
Recipe adapted from Cook's Country Magazine, December/ January 2010

4 Tablespoons unsalted butter
2 pounds Brussels sprouts, trimmed & halved through core
1/2 cup chicken broth
2 Tablespoons maple syrup
1 teaspoon minced fresh thyme
1/4 teaspoon cayenne pepper
4 teaspoons cider vinegar
salt and pepper

Melt 2 tablespoons of the butter in large skillet over medium-high heat. Add Brussels sprouts and cook until browned, about 6-7 minutes. Stir in broth, maple syrup, thyme, and cayenne, and cook covered over medium-low heat until sprouts are nearly tender, 6-7 minutes. Again, you don't want to overcook them here.

Uncover and increase heat to medium-high. Cook until liquid is nearly evaporated, about 4-5 minutes. Off heat, stir in remaining butter and vinegar; season with salt and pepper.


Yield: 6 – 8 servings

Print This Recipe