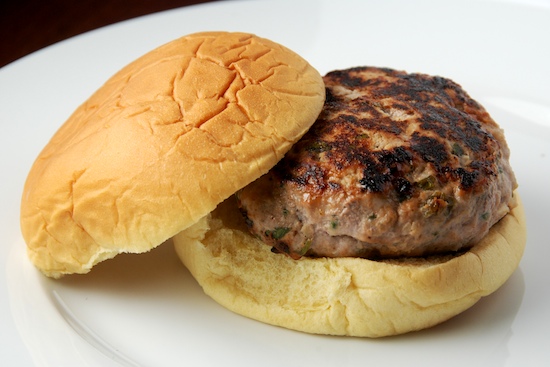 Now that we're back from Shelter Island and school has started, I'm trying to get back into a more normal routine which includes family dinners at 6pm.   I love eating with Charles and the boys.   It's a great time to find out what happened at school.
I made these burgers last night and I thought they were delicious.   Of course the boys wouldn't touch them because they had 'green stuff' in them, but I planned ahead and saved some of the raw turkey to make plain burgers for them.   One of my sons tried the burger and said he didn't like it, but I think he was biased against it from the start based on the visible parsley in the burger.    The burgers are both sweet and spicy (one of my favorite combinations), and a bit smoky too, and they have a lot of flavor.  The ingredients keep the burgers very moist as they cook.
I like the fact that this recipe makes 8 burgers.  I wrapped up some of the raw patties and froze them for future lunches and dinners.   My husband was actually in a rush yesterday so he MICROWAVED one of them.    Surprisingly he said it was delicious and still moist.  I'm sure it would have been better cooked on a grill or in a pan, but I think it's a testament to the recipe that the microwave didn't kill the burger.
This recipe recommends that the burgers be served with pear chutney.  I didn't have the ingredients to make it, so I didn't.  I'll try it next time though.
This recipe comes from Donald Trump's Mar-a-Lago club in Palm Beach.  I understand that the burgers are also served at the Trump Bar and Grille at the Trump Tower here in NYC.   I'll have to go over to try one to see how they compare to mine.
Mar-a-Lago Turkey Burgers
Recipe adapted from Oprah.com

1/4 cup thinly sliced scallions
1/2 cup finely chopped celery
3 Granny Smith apples , peeled and grated on the large holes of a box grater.  This will almost puree the apples.
1/8 cup canola oil
4 pounds ground turkey breast (ideally a mix of white and dark meat)
1 Tbsp. salt
2 Tbsp. black pepper
2 tsp. Tabasco® chipotle pepper sauce
1 lemon , juiced and grated zest
1/2 bunch parsley , finely chopped
1/4 cup Major Grey's Chutney , pureed

Sauté the scallions, celery and apples in the canola oil until tender. Let cool.

Place the ground turkey in a large mixing bowl. Add sautéed items and the remaining ingredients. Shape into eight 8-ounce burgers. Refrigerate for 2 hours.

Season the turkey burgers with salt and pepper. Place on a preheated, lightly oiled grill. Grill each side for 7 minutes until meat is thoroughly cooked. Let sit for 5 minutes.

Serve with a side of Mar-a-Lago Pear Chutney (see below) and your favorite toasted bread, pita or hamburger roll.

Mar-A-Lago Pear Chutney

1 Anjour pear , peeled and diced
1/2 teaspoon sea salt
1/2 teaspoon cinnamon
1 1/2 cups Major Grey's Chutney
1/4 cup dried currants or raisins

Preheat oven to 350°.     Toss the diced pears with the cinnamon and salt. Bake on a parchment-lined cookie sheet for 10 minutes.     Cool and mix with the chutney and currants or raisins.

Yield:  6-8  servings

Print This Recipe