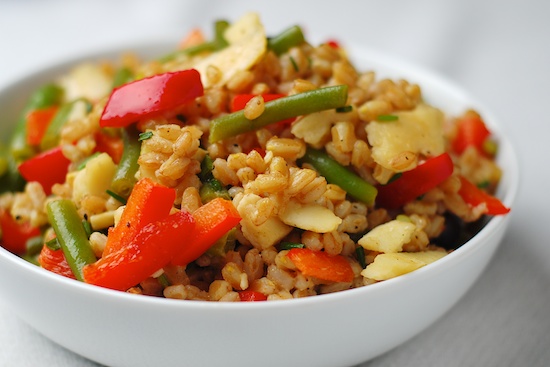 This is another delicious recipe from the Giada DeLaurentiis cookbook that I borrowed from the library recently. I think I'm able to keep it for another week, then it has to go back. I love the idea of borrowing cookbooks from the library because heaven knows that I don't need another cookbook in this apartment. I sorted through my cookbooks recently and I have a pile of about 20 that I'm going to give away on Craigslist.
I went to my MIT reunion this past weekend and at the luncheon on Saturday, they served a cold salad made of some kind of grain (not sure what it was) and some vegetables. It was delicious. It was so good, that I had a second helping. There was an unoccupied seat at our table, and after no one arrived to sit down for a while, I decided to eat it! This recipe reminded me of the salad that I ate on Saturday. It's not exactly the same, but it's equally as delicious.
This salad has some strong flavors – the fresh Parmesan and the black olives. I made the mistake of adding big chunks of Parmesan cheese to the salad and my husband thought the big chunks of cheese competed too much with the black olives. Next time I make this (and there will be a next time because I really like it), I will use either shredded or grated Parmesan.
I have never cooked with farro before, but I really like it. Farro is often used as another name for spelt which is a species of wheat. I think farro is similar to wheat berries. It's chewy and delicious and it absorbs flavors really well.
Ok, anyone want to bet on whether my boys decided to try this tonight? Nope. No such luck. It was clearly their loss.
Mediterranean Farro Salad
Recipe from Giada's Kitchen: New Italian Favorites by Giada DeLaurentiis

10 ounces farro (about 1 1/2 cups)
1 1/2 teaspoons kosher salt, plus 1/2 teaspoon
8 ounces green beans, cut into 1 to 2-inch pieces (about 2 cups)
1/2 cup pitted black olives
1 medium red pepper, cut into thin strips (about 4 ounces or 1 cup)
3 ounces Parmesan, crumbled (about 3/4 cup)
1 small bunch chives, snipped (about 1/4 cup)
1/4 cup sherry vinegar
1/4 cup extra-virgin olive oil
1 tablespoon Dijon mustard
1 teaspoon freshly ground black pepper

In a medium saucepan, combine 4 cups of water with the farro. Bring to a boil over high heat. Cover and simmer over medium-low heat until the farro is almost tender, about 20 minutes. Add 1 1/2 teaspoons of the salt and simmer until the farro is tender, about 10 minutes longer. Drain well. Transfer to a large bowl and let cool.

Meanwhile, bring a medium pot of salted water to a boil over high heat. Add the green beans and stir. Cook for 2 minutes. Transfer the cooked green beans to a bowl of ice water and let cool for 2 minutes. Drain the green beans.

Once the farro has cooled add the green beans, olives, red pepper, Parmesan, and chives. Stir to combine. In a small bowl mix together the sherry vinegar, olive oil, mustard, pepper, and the remaining 1/2 teaspoon salt. Stir to combine. Pour the sherry vinaigrette over the farro salad. Toss to combine and serve.

Yield:  6 side-dish servings

Print This Recipe