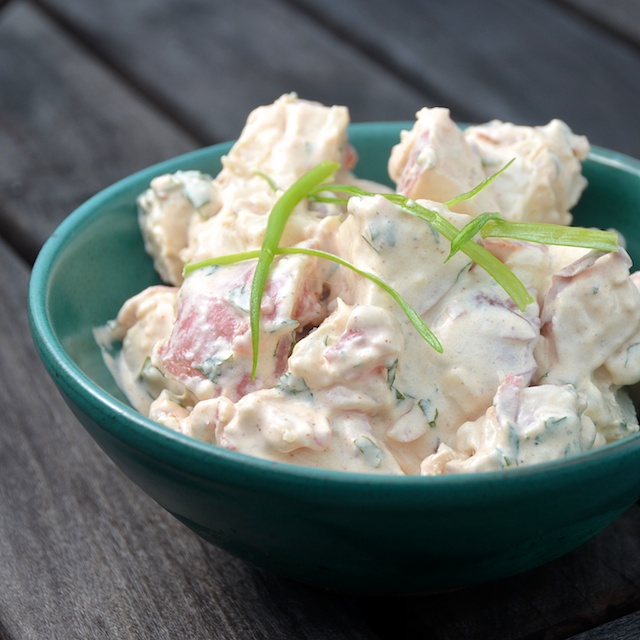 If you like Southwestern flavors and you like potato salads that have a mayonnaise base, this potato salad is for you!   This is a nice change from your traditional potato salad.  It has some nice smoky warmth from the chipotle puree and the cayenne.   As with most potato salad recipes I've made, this makes A LOT of potato salad.  It's great for a crowd, but if you're not serving 8 or more, I suggest halving the recipe.   I think I'll do that next time.
I found that the recipe made a lot of dressing.   I made the mistake of not following the recipe exactly, so I ended up with a generous coating of dressing on my salad.   I put the potatoes into the dressing mix that I made, rather than pouring the dressing over the warm potatoes.   Pouring the dressing allows you to put on just the right amount for your taste.
The recipe calls for chipotle pepper puree.  I happened to find a can in my local supermarket.   If you can't find the puree, I recommend that you buy a can of chipotle peppers in adobo sauce and throwing them into the food processor until you have a puree.
I'll definitely make this potato salad again.  Everyone who tried it really liked it.
Mesa Grill's Southwestern Potato Salad
Recipe from Bobby Flay

1 1/2 cups prepared mayonnaise
1/4 cup Dijon mustard
2 tablespoons fresh lime juice
2 tablespoons chipotle pepper puree
1 large ripe tomato, seeded and diced
1/4 cup chopped cilantro leaves
3 scallions, chopped, white and green parts
1 medium red onion, thinly sliced
1/2 teaspoon cayenne
4 cloves garlic, finely chopped
Salt and freshly ground black pepper
16 new potatoes, about 3 to 4 pounds, cooked, drained and sliced 1/2-inch thick

Combine all the ingredients, except the potatoes, in a medium bowl and season with salt and pepper, to taste. Place warm potatoes in a large bowl and pour the mixture over potatoes and mix well. Season again with salt and pepper, to taste.

Yield: 8 servings

One year ago: Creamy Rotini with Zucchini, Tomato and Red Pepper
Two years ago: Lamb's Quarters Quiche
Three years ago: Strawberry Lemonade with Agave Nectar
Four years ago: Strawberry Lemonade
Five years ago: Linguini with Shrimp Scampi

Print This Recipe