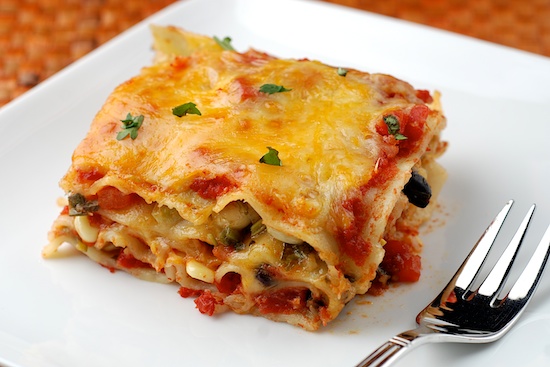 I really like this recipe, and I've made it twice in the last week. It's easy to throw together – it's actually the easiest lasagna I've ever made – and it's incredibly good. It's a perfect weeknight meal for us as we strive to continue to remove meat from our diet.
Today I watched the movie "Forks Over Knives" that my college friend Linda recommended. She's vegetarian and went vegan for Lent. She's a huge advocate of vegetarianism. I'm so glad I watched the movie. I now more than ever want to move closer to a plant-based diet. This movie advocates not eating any animal-based products at all, which means no meat, no eggs, no dairy, etc. For me, getting rid of meat isn't too hard. Dairy is another matter. I love my Greek yogurt mixed with homemade granola for breakfast. I also love cheese. Well, I figure one step at a time. Reducing our meat consumption and replacing it with something vegetarian is a great first step.
This lasagna is packed with flavor, very filling and you won't miss the meat at all. The first time I made this, I used Barilla no-boil lasagna noodles, which used to be my favorite. The problem with them for this recipe is that you can't get three noodles in a 9×9″ pan. You can get two in comfortably, so you're forced to to break a noodle into pieces to fill the remaining space. Basically, it's a pain in the neck because the noodles don't break into nice even pieces. This time I made the lasagna, I found Giovanni Rana No Boil Lasagne. These noodles are fresh and come in wide sheets. One and a half sheets fill the 9×9″ pan perfectly. They're incredibly easy to use and they're delicious. I highly recommend these noodles if you can find them.
Mexican Lasagna
Recipe from A Couple Cooks via Annie's Eats

1 (15 oz.) can black beans, drained and rinsed (or 1½ cups cooked black beans)
1½ cups fresh or frozen corn kernels
4-5 green onions, chopped
Scant ½ cup chopped cilantro, plus more for garnish
1 tsp. dried oregano
1 tsp. garlic powder
¾ tsp. kosher salt
½ tsp. cumin
1 (28 oz.) can crushed tomatoes (fire roasted if you can find them)
9-12 no-boil lasagna noodles
12 oz. shredded Mexican blend cheese (I used half Monterey Jack, half spicy pepper jack)
Hot sauce

Preheat the oven to 400˚ F.  Have a 9 x 9-inch baking dish ready.

In a large bowl, combine the black beans, corn, green onions, cilantro, oregano, garlic powder, cumin, and salt. Stir well to mix the spices.

Spread a thin layer of tomatoes over the bottom of the baking dish (approximately one fifth of the total amount). Layer with a 3-4 lasagna noodles (or 1.5 sheets if you're using the Giovanni Rana noodles), breaking them as needed to fit the pan. On top of the layer of noodles, spread about one third of the bean mixture. Layer evenly with about one quarter of the remaining tomatoes and drizzle lightly with hot sauce. Sprinkle with one quarter of the cheese.

Repeat the layering process two times more (noodles, beans, tomatoes, cheese, noodles, beans, tomatoes, cheese). The last layer will be noodles, tomatoes, and cheese. Cover the pan tightly with aluminum foil. Bake 35-45 minutes, or until noodles are tender and cooked through. Remove the foil from the top and bake 5 minutes more, until the cheese is melted. Remove from the oven and let stand at least 10 minutes before slicing and serving.

Yield: ~6 servings

One year ago: Chocolate Dutch Baby
Two years ago: Meyer Lemon Sorbet
Three years ago: Sweet-n-Sour Pork Chops
Four years ago: Candied Carrots

Print This Recipe