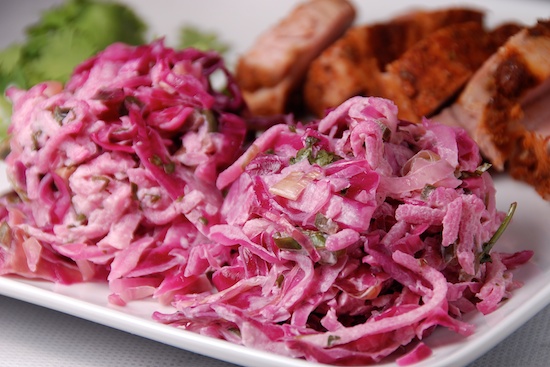 This is one of the side dishes that I served at our dinner party the other night. I have some extra cabbage, so I plan to make another batch today. It was very tasty and a nice change from traditional cole slaw.
If you decide to try this recipe, please know that the cabbage has to drain for 2 hours! I'm so lucky that I decided to start this on the morning of the dinner party. As usual, I didn't read the entire recipe before starting it. I had the cabbage sliced and thought I was going to be able to finish making the slaw only to find that the cabbage had to sit for two hours. Usually I'm throwing food together right before the guests come, but this time I decided to start early and thank goodness I did.
I love the color of this salad.  It definitely brightens up your plate.
Mexican-Style Slaw with Jícama, Cilantro & Lime
From Fine Cooking Magazine, August 2006

1 small or 1/2 medium red or green cabbage (or use a mix of both, about 1-1/2 lb.), bruised outer leaves removed, cored, and cut into six wedges
Kosher salt
1 medium jícama (about 1 lb.), peeled and quartered
4 scallions (white and green parts), thinly sliced on the diagonal (about 1/2 cup)
1/4 cup chopped fresh cilantro
1/4 cup plus 2 Tbs. mayonnaise
1/4 cup fresh lime juice; more to taste
1 jalapeño, seeded (if you like) and minced

Thinly slice the cabbage in a food processor using the 4mm slicing disk or by hand; you should have about 6 packed cups. Put the cabbage in a colander and toss it with 1 Tbs. kosher salt. Lay a plate that fits inside the colander on top of the cabbage and set a heavy can or jar on top of the plate. Drain the cabbage in the sink or over a bowl for 2 hours.

If using a food processor, switch to the grating disk and grate the jícama or cut it into very thin (julienne) strips by hand; you should have about 2 cups. Put the jícama in a large bowl and toss in the scallions and cilantro.

In a small bowl, whisk the mayonnaise, lime juice, and jalapeño.

Turn the cabbage out onto a clean dishtowel or paper towels and pat it thoroughly dry. Toss the cabbage with the jícama and the lime mayonnaise. Season to taste with more kosher salt and lime juice if needed.

Yield: 6 – 8 servings

Print This Recipe