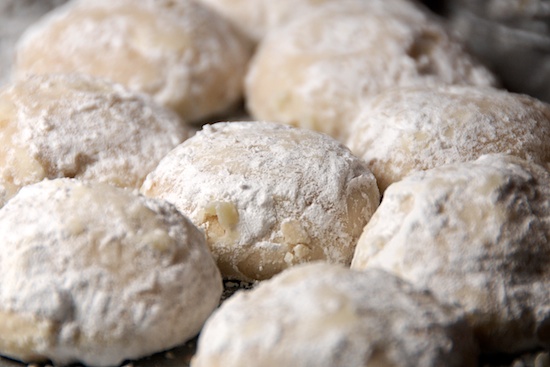 We went to a great roof-top party on Saturday night that had a Mexican theme. The food was wonderful, including delicious soft tacos, quesadillas, stuffed peppers, homemade guacamole and more. I volunteered to bring a dessert, but quickly found that I was unable to locate many Mexican desserts that were well suited to parties. This was the only recipe that I found. I see these a lot at Christmas time, and I've heard them called snowballs. I didn't know that they were actually called Mexican Wedding Cookies. Upon further research, I found that they are also called Russian Tea Cakes. Apparently that's their original name.
The cookies basically consist of ground nuts, flour, sugar, butter and vanilla.   A fairly simple ingredient list for such a tasty cookie.   They're pretty fragile, and they're crumbly when you bite into them, so be careful with them when you're rolling them in the sugar.
I was hoping that the boys would like them, but alas I was disappointed again!   One of these days I know they'll surprise me.
Mexican Wedding Cookies
Recipe by Mark Bittman

1 cup (2 sticks) unsalted butter, softened
1 1/2 cups confectioners' sugar
2 cups flour
1/4 tsp. salt
1 cup finely chopped walnuts, pecans, hazelnuts or almonds  (I used pecans)
1 tsp. vanilla extract

With a an electric mixer beat butter until light and fluffy. Add 3/4 cup of confectioners' sugar and cream together.

Combine flour, salt and chopped nuts in a separate bowl. Add the dry ingredients to the sugar mixture and beat until just combined. Stir in vanilla.

Shape the dough into a disk, wrap in plastic, and refrigerate for 30 minutes to an hour (or as long as 2 days).

Heat the oven to 350 degrees (F).

Take the dough out of the refrigerator and roll into 1-inch balls and place on ungreased cookie sheet an inch apart.

Bake for 10-12 minutes until set, but only barely browned on top.

Put the remaining sugar in a shallow bowl.  Cool the cookies on the baking sheet until you can handle them. Roll each cookie in the sugar and put on rack to finish cooling. Once cool, roll them in the confectioners sugar again.

Yield: ~3 dozen cookies

Print This Recipe