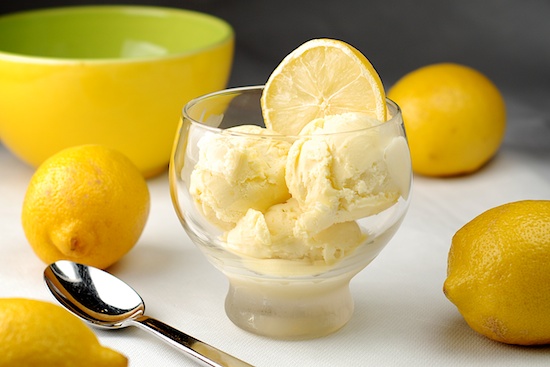 In January/February, I always see a box of Meyer Lemons at Costco and I feel compelled to put them in my cart. I don't ever have a recipe in mind when I see them, but I love citrus so much, that I always find something to do with them. This time it was gelato. This recipe is wonderful with Meyer lemons, but if you don't have any, you can use regular lemons instead.  There are actually regular lemons in the photo above because  I used all the good-looking Meyer lemons in the gelato.
This is a recipe that takes time and requires an ice cream maker. There are a couple of steps, and there are also a couple of periods where the mixture has to sit for hours, or ideally overnight. If you want to make this, be sure to start either really early in the morning, or the day before.
This recipe will leave you with 5 egg whites. You can either make an omelet out of them, or you can use them to make these meringues, or perhaps these.
I thought this gelato was delicious. So did my husband. Most of the boys loved it too, although it was a bit too rich for one of them. It's almost like frozen custard. I'll make this again during the summer. It will be perfect for dessert on a hot summer night.
Meyer Lemon Gelato
Recipe from Taste of Home

1 cup milk
1 cup sugar
5 egg yolks, lightly beaten
3 tablespoons grated lemon peel
3/4 cup fresh Meyer lemon juice
2 cups heavy whipping cream

In a small heavy saucepan, heat milk to 175°F.   Stir in sugar until dissolved. Whisk a small amount of hot mixture into egg yolks. Return all to the pan, whisking constantly. Add lemon peel. Cook and stir over low heat until mixture reaches at least 160°F and coats the back of a metal spoon.

Remove from the heat; strain.  Stir in lemon juice.  Cool quickly by placing pan in a bowl of ice water; stir for 2 minutes.  Stir in cream.  Cover and refrigerate for several hours or overnight.
Fill cylinder of ice cream freezer two-thirds full; freeze according to manufacturer's directions.  Transfer to a freezer container; freeze for 2-4 hours before serving. 

Yield: 1-1/2 quarts

One year ago: Sweet Potato and Quinoa Salad
Two years ago: Alfajores
Three years ago: Chocolate Stout Cupcakes
Four years ago: Peanut Butter Cookies
Five years ago: Lasagna with Pink Sauce, Sausage and Leeks

Print This Recipe