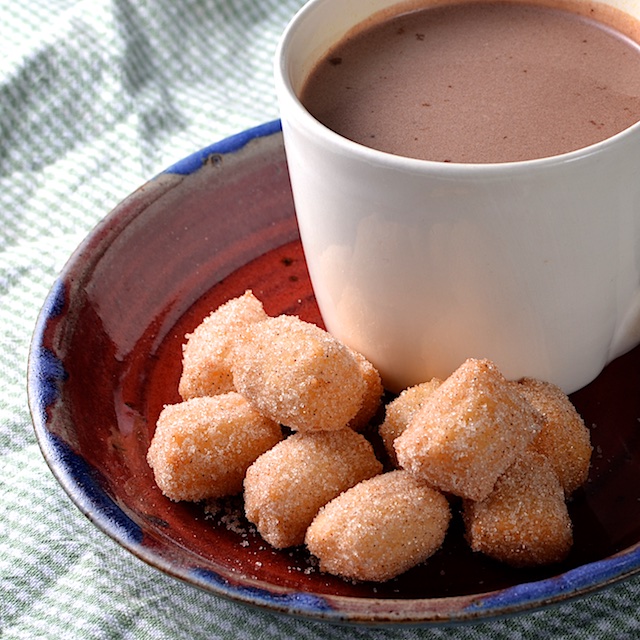 Yesterday was the first day of spring, and it snowed almost all day! We have had quite a winter here in NYC. I thought for sure our snowstorms were over for the year, but Mother Nature had other ideas. We probably got a good 4″ when all was said and done. The city looked beautiful both last night and this morning.
Our boys had some friends come over after school yesterday. With the snow falling heavily outside, I decided to try this recipe, which I had torn out of an old version of Food Network magazine. Our boys LOVE churros. What's a churro? It's a pastry make of fried dough dipped in a mixture of cinnamon and sugar. A woman sets up a stand selling churros outside the boys' schoolyard after school, and they always want to buy one.
This is a recipe that needs a bit of equipment to make. You'll need a deep-fry thermometer to make sure the oil is hot enough to fry the churros correctly. If the oil is not hot enough, you'll end up with an oily, soggy mess. If it's too hot, the outside will brown quickly, leaving the inside raw. Ideally, the churros should be light and crispy. You'll also need a pastry bag with a 1/2″ star shaped tip. In other recipes, I have recommended using a ziploc bag and cutting a hole in the corner if you don't have a pastry bag. Definitely don't try that with this recipe. The dough is hot when it comes out of the pan. I think it might melt right through a ziploc bag.
These were a lot of fun to make on a very snowy afternoon, and the kids loved them!
Mini Churros
Recipe from FoodNetwork.com

2 tablespoons unsalted butter
2 tablespoons vegetable shortening
1/4 cup plus 1 tablespoon granulated sugar
1/2 teaspoon kosher salt
1 cup cake flour
Vegetable oil, for frying
1 tablespoon packed light brown sugar
1/2 teaspoon ground cinnamon

Line a baking sheet with parchment paper and fit a pastry bag with a 1/2-inch star tip; set aside. Combine 1 cup water, the butter, shortening, 1 tablespoon granulated sugar and the salt in a medium saucepan and bring to a boil. Stir in the flour with a wooden spoon, then reduce the heat to low and stir vigorously until the mixture forms a ball, about 1 minute. Let cool slightly (the dough is very hot when it comes out of the pan), then transfer the dough to the pastry bag. Pipe 1-inch logs onto the prepared baking sheet, using kitchen shears to snip off each piece (you should have approximately 26 to 28 churros). Let them rest at room temperature for 15 – 20 minutes.

Heat about 2 inches of vegetable oil in a Dutch oven or pot until a deep-fry thermometer registers 360 degrees F. Combine the remaining 1/4 cup granulated sugar, the brown sugar and ground cinnamon in a large bowl. Working in three batches, fry the churros until golden and crisp, 4 to 5 minutes. Remove with a slotted spoon and transfer to a rack set over a baking sheet. Let cool about 5 minutes, then add to the cinnamon sugar and toss to coat.

Yield: ~26 – 28 churros

One year ago: Broccoli, Cheddar and Wild Rice Casserole
Two years ago: Meyer Lemon Gelato
Three years ago: Sweet Potato and Quinoa Salad
Four years ago: Alfajores
Five years ago: Pineapple and Meyer Lemon Sorbet
Six years ago: Peanut Butter Cookies
Seven years ago: Smashed Sweet Potatoes

Print This Recipe