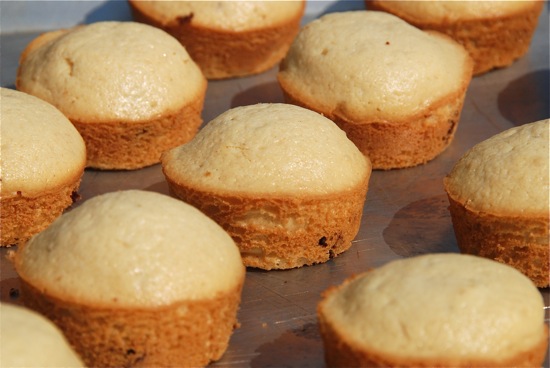 My boys LOVED these!  In the city I have a gas range and big griddle so it's fairly easy to make pancakes, but here on Shelter Island we have an electric stove and no griddle, so pancakes can be a chore. I actually don't make them here for that reason.
I made some of these with chocolate chips and some with blueberries. The boys liked the chocolate chip pancake muffins (no big surprise), but I liked the blueberry ones.  I actually liked both, but I love baked goods with fresh blueberries.  We still have some left from our blueberry picking expedition last week.
These are a little more dense than a typical muffin and not as sweet. The boys inhaled them as fast as I could remove them from the pan. Today I made a double batch and they were still asking for more!  These  will definitely be added to our breakfast rotation.   Next time, I'll ease a little whole wheat flour into them to make them a bit healthier.
I didn't have any buttermilk so I substituted half and half.  I can't wait to try them with buttermilk.
Mini Maple Pancake Muffins
Recipe from Bakerella.com

1 cup flour
1 teaspoon baking powder
1/2 teaspoon baking soda
1/4 teaspoon salt
2 tablespoons sugar
2/3 cup buttermilk or half and half
1 egg
2 tablespoons pure maple syrup
2 tablespoons melted butter
1/2 cup milk chocolate chips or blueberries

Preheat oven to 350 degrees.

Combine flour, baking powder, baking soda, salt and sugar in a medium bowl. Sift together with a wire whisk. In another bowl, stir buttermilk (or half & half), egg, maple syrup and melted butter until just combined. Add wet ingredients to dry ingredients and stir with a spoon until combined. Stir in chocolate chips. Reserve a few chips to sprinkle on the tops. Bake for ~10 minutes.

Let cool slightly and remove from the pan. I used a toothpick around the edges to separate the pancake muffins from the pan.
Serve immediately either plain or with warmed butter or maple syrup.

Let cool slightly and remove from the pan. You may need to use a toothpick around the edges to separate the pancake muffins from the pan.   Serve immediately with warmed butter if you like or even just with maple syrup.

Yield: 24 mini muffins

Print This Recipe