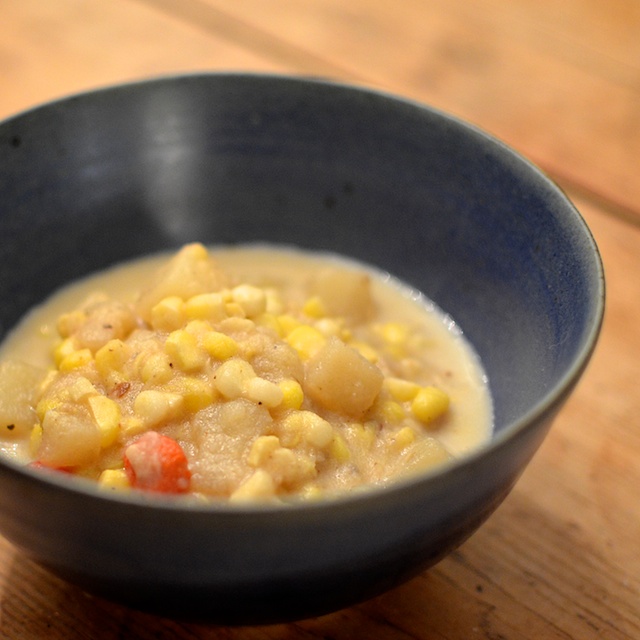 The other night I made two Mark Bittman recipes, this corn chowder and a rice salad. The rice salad was a total bust. I disliked it so much that I didn't even save the leftovers. Blech!  While I was making this recipe, I thought it was headed for failure too, but miraculously it was saved when I seasoned it with salt and pepper. I was amazed that such simple seasonings could save a soup, but they really did. The seasoning added so much that my husband remarked that this is the best soup I have ever made! My sister-in-law liked the soup so much that she ate the leftovers for breakfast the next morning.
When cutting up the potatoes, remember that the smaller you cut them, the faster they will cook. I cut mine into 1/2″ cubes and they cooked pretty quickly.
The recipe calls for the optional addition of chopped tomatoes. I had a handful of ripe baby cherry tomatoes in my garden, so I threw them in whole and found them to be a nice addition.
It is so very important to taste the soup during its final stages, season with salt and pepper, taste again and repeat until you like the flavor. It's amazing what a little salt and pepper can do to this simple soup.
Minimalist's Corn Chowder
Adapted ever so slightly from Mark Bittman as seen in the NY Times

4 to 6 ears corn
1 tablespoon butter (or canola oil – I used butter for its flavor)
1 large shallot, diced
2 medium potatoes, peeled and chopped into small cubes
Salt and freshly ground black pepper
2 tomatoes, cored, seeded, and chopped, optional
1 cup milk

Shuck the corn and use a paring knife to strip the kernels into a bowl. Put the cobs in a pot with 4 cups water; bring to a boil, cover, and simmer for 10 minutes.

Meanwhile, put the butter or oil in a saucepan and turn the heat to medium-high. When the butter melts or the oil is hot, add the shallot and potatoes, along with a sprinkling of salt and pepper. Cook, stirring occasionally, until the shallot softens, about 5 minutes; add the tomatoes if you're using them and cook, stirring, for another minute or two.

After the corn cobs have cooked for at least 10 minutes, strain the liquid into the onion-potato mixture. Bring to a boil, then turn the heat down so the mixture simmers. When the potatoes are tender, about 10 minutes, add the corn kernels and milk and heat through. Taste and adjust seasoning if necessary, and serve.

Yield: 4 servings

One year ago: Orzo and Zucchini Salad
Two years ago: Sweet Corn Gelato
Three years ago: Cheese Danish
Four years ago: Hostess Inspired Cupcakes

Print This Recipe