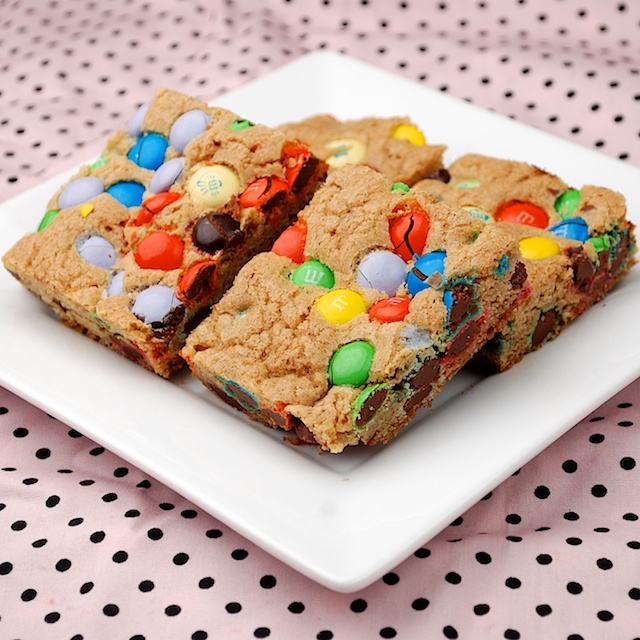 I made four batches of these in the last couple of days.  One went to a Sunday school party, two batches to school, and some to my niece and nephews in Massachusetts.  Everyone who tried them liked them, probably because they are LOADED with M&M's.  They're like a chewy version of a chocolate chip cookie, with M&M's instead of the chocolate chips.   A kid's dream!  They're also really easy to make.   I didn't follow the directions exactly – I took a couple of short cuts to save time.   I basically dumped everything into my stand mixer.   I started with the butter and the sugar, followed by the eggs and vanilla.   I then dumped all of the dry ingredients in together – I never whisked them separately.  When the batter was all mixed, I tossed the M&M's into the stand mixer as well.  A couple of them got crushed, but not too many, and with so many M&M's in the recipe, you never notice that a few are broken.
I greased my pan with this great coconut oil spray that I recently found at Trader Joe's.
These taste just like you expect them to taste.   Nothing fancy.  Just delicious.
M&M's Cookie Bars
Recipe from What Megan's Making

2 1/8 cups flour
1/2 teaspoon salt
1/2 teaspoon baking soda
12 Tablespoons butter (1 1/2 sticks), melted and cooled slightly
1 cup brown sugar
1/2 cup white sugar
1 large egg
1 large egg yolk
2 teaspoons vanilla extract
2 cups M&M's, divided (one 12-oz. bag)

Preheat the oven to 325 degrees. Adjust the oven rack to lower-middle position. Grease a 9×13 pan and set aside.

In a medium sized bowl, whisk together the flour, salt, and baking soda and set aside.

In a large bowl, whisk the melted butter and sugars until combined. Add the egg, egg yolk, and vanilla and mix well. Using a rubber spatula, fold the dry ingredients into the egg mixture until just combined; do not overmix. Fold in 1 cup of M&M's and turn the batter into the prepared pan, smoothing the top with the spatula. Sprinkle remaining M&M's on top and press in slightly.

Bake for approximately 25 minutes, until the top of the bars is light golden brown, slightly firm to the touch, and edges start pulling away from sides of pan. Cool completely before cutting.

One year ago: Tomato Peanut Soup
Two years ago: Orange Sherbet
Three years ago: Chocolate Hazelnut Biscotti

Print This Recipe