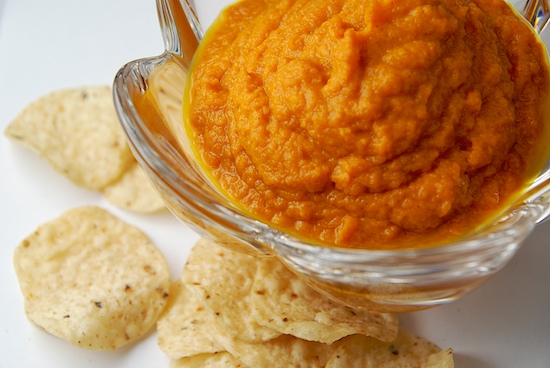 I had a bag of baby carrots in the refrigerator that I wanted to use so I fished around on the internet looking for something interesting to do with them.   I remembered having a carrot dip at a friend's house a couple of years ago, so I googled 'carrot dip' and came up with this.   Wow, is it flavorful and delicious.   I almost decided to make chips and dip my dinner when I made it.  It's that good.    My husband and I ate about half of it the night I made it, then I polished the rest off for lunch the next day.
I've been told that whole carrots are more flavorful than baby carrots, so I recommend that you try to make this with a pound of whole carrots.   I used baby carrots because that's what I had in the house.   I also didn't have a whole clove of garlic in the house, so I cooked the carrots with a teaspoon of minced garlic and it worked just fine.   I also didn't have olives or cilantro in the house so I skipped those.   They are just supposed to be garnishes anyway, so I don't think I missed anything.
I think this would make a great sandwich spread in lieu of mayonnaise.   I'm going to make a batch this week and use it on turkey sandwiches.
As with most recipes that have a lot of ingredients blended together, this dip is better the next day (but still great just after you make it.)
Moroccan Carrot Dip
Recipe from RecipeZaar, Recipe #112229

16 ounces carrots, peeled and chopped into large pieces
1 clove garlic, peeled and left whole
1/2 teaspoon ground cumin
1/2 teaspoon paprika
1/2 teaspoon ground ginger
1/2 teaspoon ground cinnamon
1 pinch cayenne pepper
sea salt, to taste
1 tablespoon honey
2 tablespoons fresh lemon juice
3 tablespoons virgin olive oil
2 tablespoons seeded green olives (left whole or chopped, your preference)
2 tablespoons fresh cilantro leaves
4-6 rounds flat bread or pita pocket bread

Cook the chopped carrot and garlic in simmering, salted water, for about 20 minutes or until soft. Drain well, then return them to the hot, dry pan for a minute or two, over medium heat, to dry them out further.

Tip the carrots and garlic into the food processor bowl, and process until smooth. Add the cumin, paprika, ginger, cinnamon, cayenne, sea salt, honey and lemon juice and process again. With the machine still running, add the olive oil gradually. Allow to cool.

Spoon into a serving bowl, drizzle with a little extra olive oil, scatter with olives and cilantro leaves (if using), and serve with lightly warmed flat bread or chips for dipping.

Yield: 4 – 6 servings

Print This Recipe