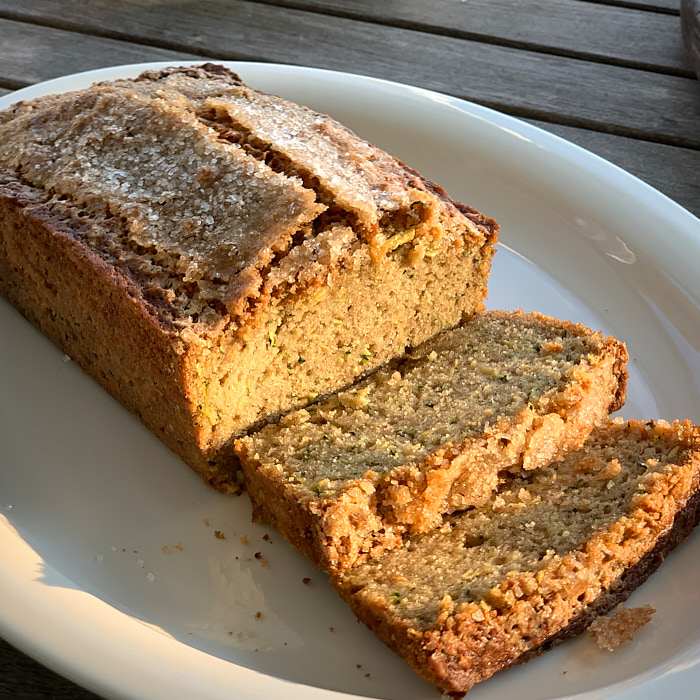 This is the BEST zucchini bread I have EVER made, and during zucchini season, I make it often. It also happens to be the easiest. It takes no more than 15 minutes from the moment you take the mixing bowl out until it's in the oven baking. It's also a one-bowl recipe, and the best part of all is that you grate the zucchini and don't have to drain it or squeeze the moisture out of it. You use it as is, moisture and all. For me this is a dream recipe.
The trickiest part of this recipe is letting it sit for 24 hours on your counter (uncovered!) before cutting into it. It'll be tempting because the cracked top of the bread is gorgeous, crunchy and flecked with sugar, but do not be tempted! I have made this bread and have cut into it once it has cooled, and it's very good, I'm not going to lie, but if you wait for 24 hours, it's incredible. I hope you give it a try.

The recipe calls for dark brown sugar, but I often only have light brown sugar in the house, so that's what I use. I imagine the bread will have a bit more depth of flavor if dark brown sugar is used, but light is a very acceptable substitute.

If you have a scale, it's worth weighing the grated zucchini. Not the end of the world if you don't have one, but it's helpful if you do. I don't weigh the other ingredients, just the zucchini.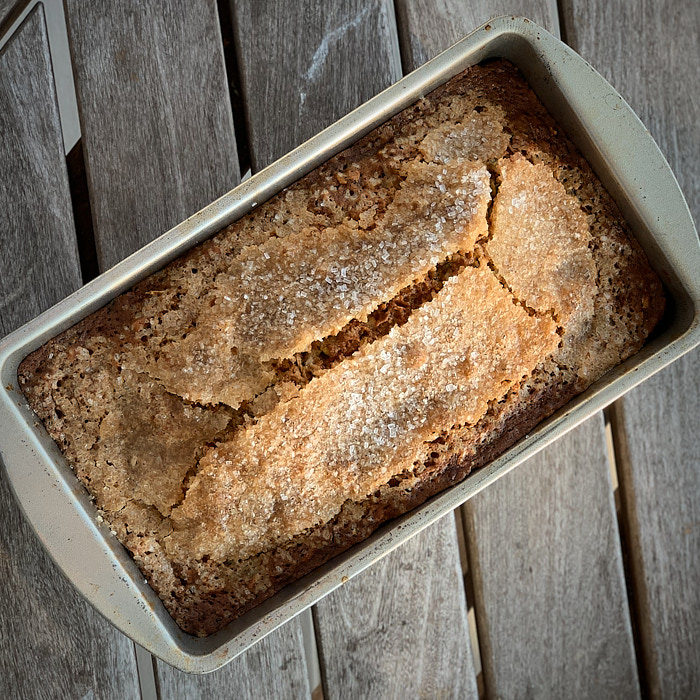 Must-Try Zucchini Bread
Recipe from Smitten Kitchen

2 cups (13 ounces or 370 grams) grated, packed zucchini, not wrung out, grated on the large holes of a box grater
2 large eggs
2/3 cup (160 ml) of a neutral oil (I use canola)
1/2 cup (95 grams) packed dark brown sugar
1/2 cup (100 grams) granulated sugar
1 teaspoon pure vanilla extract
1 teaspoon fine sea or table salt
1 1/4 teaspoons ground cinnamon
1/8 teaspoon ground nutmeg
3/4 teaspoon baking soda
1/2 teaspoon baking powder
2 cups (260 grams) all-purpose flour
2 Tablespoons (25 grams) raw, turbinado or sparkling sugar


Heat oven to 350 degrees F. Lightly coat a 9×5-inch loaf pan with nonstick spray. Place grated zucchini in a large bowl and add oil, eggs, sugars, vanilla, and salt. Use a fork to mix until combined. Sprinkle cinnamon, nutmeg, baking soda, and baking powder over surface of batter and mix until well combined. Add flour and mix until just combined. Pour into prepared loaf pan and smooth the top. Sprinkle with the raw, turbinado or sparkling sugar. Bake for 50 to 60 minutes, until a toothpick or tester inserted into the top of the cake comes out batter-free.

Let cool completely in the pan. Leave in pan, unwrapped, overnight or for 24 hours. I slice and serve mine directly from the pan, but you can also remove the loaf from the pan to slice it. The bread will keep for 4 or 5 days at room temperature. Cover the sliced end of the loaf if it is left out for a few days. Leave the top uncovered to it stays crunchy. Enjoy!

Yield: One loaf



One year ago:  My Go-To Blueberry Muffin Recipe
Two years ago:  Tomato and Feta White Bean Salad
Three years ago:  Veggie Nuggets
Four years ago:  Toasted Israeli Couscous Salad with Mint, Cucumber, and Feta
Five years ago:  Yotam Ottolenghi's Sweet Corn Polenta with Eggplant Sauce
Six years ago:  Dark Chocolate and Nutella Puppy Chow
Seven years ago:  Blueberry Maple Refrigerator Oatmeal
Eight years ago:  Toasted Corn, Cherry Tomato, and Edamame Salad
Nine years ago:  Mustard-Roasted Potatoes
Ten years ago:  McDonald's-Style Chicken Nuggets
Eleven years ago:  Very Green Broccoli Soup
Twelve years ago: Ham and Swiss Puff Pastry Quiche

Print This Recipe