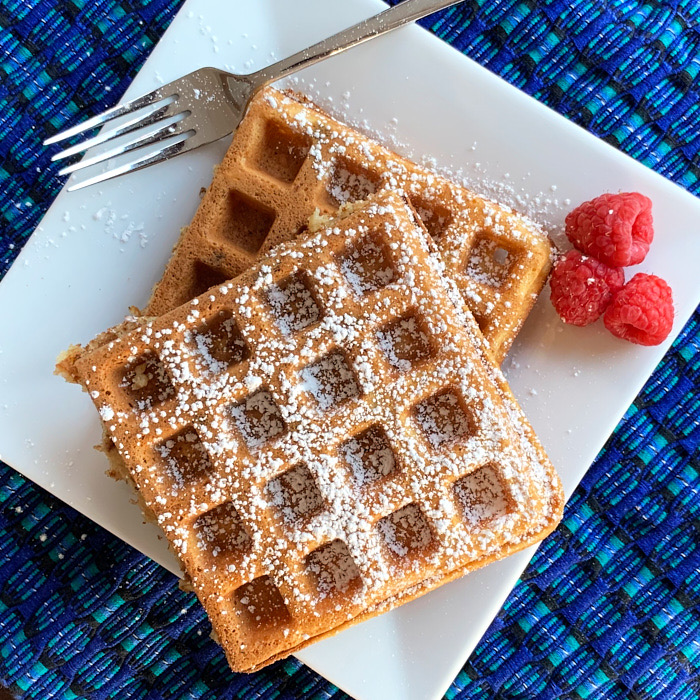 Our family has a new favorite waffle recipe. Actually, if I want to be completely accurate I should say that most or our family has a new favorite waffle recipe. Three out of the four boys think this is hands-down the best waffle recipe I have ever used. The fourth prefers the old one.

This new recipe comes from King Arthur Flour. They mention that it is a recipe used in a popular Washington D.C. hotel. The waffles are quite crispy on the outside and soft on the inside. They're not as sweet as the old recipe I used.

The recipe calls for King Arthur Flour. I used Pillsbury all-purpose, and the recipe worked fine. The batter is very runny, surprisingly so. That said, the waffles turned out perfectly. Please note that this recipe calls for beating the egg whites separately until they hold soft peaks. I do this in my Kitchenaid stand mixer while I'm preparing the rest of the batter. Keep a close eye on them, you don't want them to become too stiff or you'll have trouble folding them into the rest of the batter.
The Best Waffles Ever
Recipe adapted ever so slightly from King Arthur Flour

2 large eggs, at room temperature; separated
1 1/2 cups (340g) buttermilk, at room temperature
2 tablespoons melted butter
2 tablespoons vegetable oil, for added crispness; optional, but good
1 cup (120g) King Arthur Unbleached All-Purpose Flour (Pillsbury works too!)
4 teaspoons cornstarch
1 teaspoon baking powder
1/2 teaspoon baking soda
1/4 teaspoon salt
1/2 teaspoon sugar

Grease and preheat your waffle iron according to the manufacturer's instructions.

In a large bowl, beat together the egg yolks, buttermilk, butter and oil until well combined. In a separate bowl, sift or whisk together the dry ingredients. Gently stir the dry ingredients into the wet ingredients. Don't beat the batter; it's unnecessary, and will make for tougher waffles.

Beat the egg whites until they hold soft peaks. Gently fold them into the batter. The batter will be quite thin. This is expected.

Cook the waffles according to your waffle iron's instructions. To keep finished waffles crisp as you continue baking, place them in a preheated 200°F oven, directly on the rack.

Yield (according to King Arthur): 5 large (7″) Belgian waffles; or 7 medium (5″) square American-style waffles


One year ago:  Easy Quiche Florentine
Two years ago:  Caramelized Shallots
Three years ago:  Burrata with Lentils and Basil Vinaigrette
Four years ago:  Chocolate Babka
Five years ago:  Sour Cream Corn Bread
Six years ago:  Chocolate Nudges
Seven years ago:  Homemade Marshmallow Peeps
Eight years ago:  Sweet Potato and Quinoa Salad
Nine years ago:  Jerk Shrimp Mini Pies
Ten years ago:  Chocolate Pancakes
Eleven years ago:  Baked Shrimp Scampi
Twelve years ago: Chicken Piccata




Print This Recipe