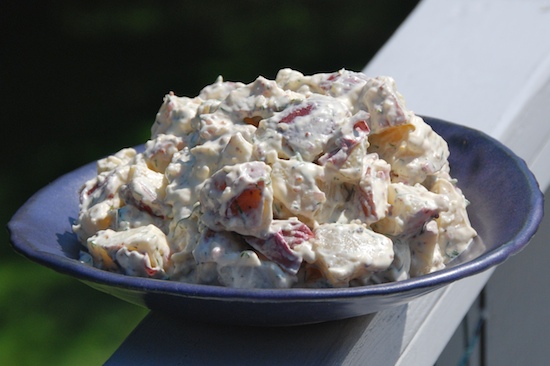 My parents, my sister and her new baby came to visit us on Shelter Island today. I served sausages and peppers for lunch with a side of this homemade potato salad. As usual, I started the recipe a little late, and didn't read all of the directions before I launched into it. When I cook, I typically find a picture or a recipe that looks good, and I jump right in.   Don't you think I'd learn?   I never, ever read to the end of the recipe to find things like, "refrigerate for a few hours before serving", or "marinate overnight".  Not sure why.
When I made this potato salad today, I didn't follow the directions for steaming the potatoes. I boiled them until they were cooked, then I drained them. I also didn't use all of the salt that was in the original recipe. The original recipe called for two extra teaspoons of salt. I know I've said this before – I LOVE Ina Garten, but all of her recipes are a little heavy-handed with the salt. I also left the red potato skins on, which made a very pretty potato salad.
I didn't have time to let the potato salad sit for a few hours to allow the flavors to meld. I didn't even have enough time to allow the potatoes to cool, so I served fresh, warm potato salad, and it got great reviews. I can only imagine how good it's going to be tomorrow. I'll definitely make this again.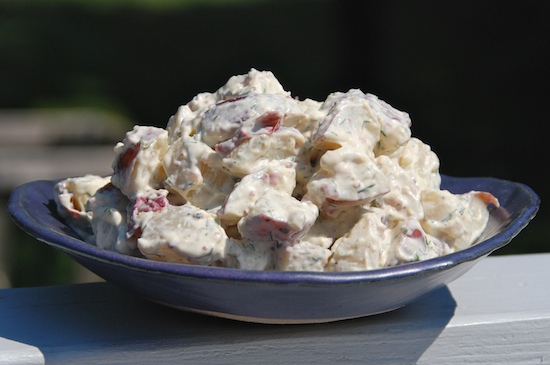 New Potato Salad
Adapted from recipe by Ina Garten

3 pounds small red potatoes
Kosher salt
1 cup good mayonnaise
1/4 cup buttermilk
2 tablespoons Dijon mustard
2 tablespoons whole-grain mustard
2 generous Tablespoons chopped fresh dill (or to taste)
Freshly ground black pepper
1/2 cup chopped celery
1/2 cup chopped red onion

Place the potatoes and 1 teaspoon of salt in a large pot of water. Bring the water to a boil, then lower the heat and simmer for 10 to 15 minutes, until the potatoes are barely tender when pierced with a knife. Drain the potatoes in a colander, then place the colander with the potatoes over the empty pot and cover with a clean, dry kitchen towel. Allow the potatoes to steam for 15 to 20 minutes.

Meanwhile, in a small bowl, whisk together the mayonnaise, buttermilk, Dijon mustard, whole-grain mustard, dill, 1 teaspoon of salt, and 1 teaspoon of pepper. Set aside.

When the potatoes are cool enough to handle, cut them into quarters or halves, depending on their size. Place the cut potatoes in a large bowl. While the potatoes are still warm, pour enough dressing over them to moisten. (As the salad sits, you may need to add more dressing.) Add the celery and red onion, and season with salt and pepper to taste. Toss well, cover, and refrigerate for a few hours to allow the flavors to meld.  Serve cold or at room temperature.

Yield:  6 – 8 servings

Print This Recipe