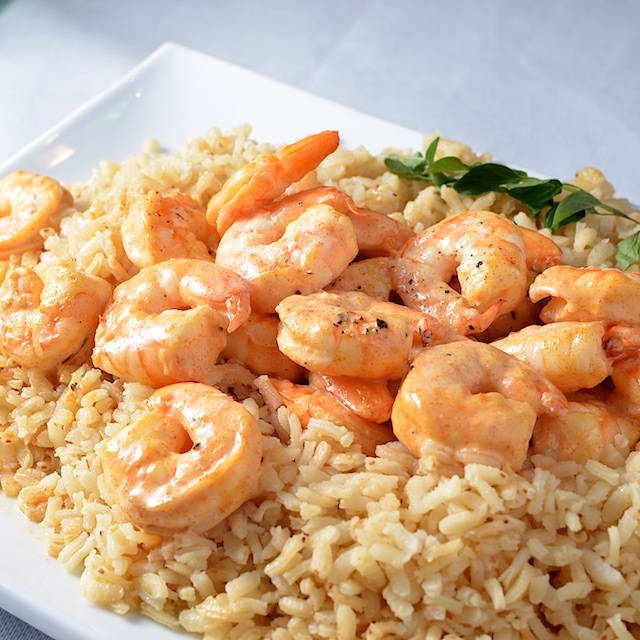 I know I've mentioned this before, but I usually have a 2-lb bag of frozen shrimp in my freezer. I get a bag every time I go to Costco. The shrimp come frozen, peeled and deveined. They still have the tail on them, and you can choose to cook with the tails on or without them. I typically take them off, unless I'm using the shrimp for shrimp cocktail, in which case the tail becomes a nice little handle. Shrimp are very quick to cook, so they're handy if you're looking to make a last minute meal.
This is a simple meal to cook, and if you're looking for a meatless meal, you can substitute vegetable broth for the chicken broth. I made a couple of small substitutions to allow me to use the ingredients that I had in my cabinets. I only had Arborio rice, which is the kind used for risotto. I didn't have any long grain rice on hand, so I gave the Arborio a shot. It worked out very well. I thought the rice was delicious. I also didn't have any hot sauce on hand, so I made some of my own. I mixed two teaspoons of white vinegar with one teaspoon of ground cayenne pepper. I considered this to be the equivalent of one Tablespoon of hot sauce. I mixed enough for the recipe, and then added some extra because my husband and I like things that are spicy.
I will definitely make this again because it's so easy, and it has quite a bit of flavor, despite the short and simple ingredient list. My husband loved it, but next time he asked me to make more of the cream sauce. If you're just cooking for two, you can easily cut this recipe in half.

Nonna Luna's Rice
Recipe from Giada deLaurentiis via Food Network

1 stick (4 ounces) unsalted butter, divided, at room temperature
2 cups parboiled long grain rice, such as Uncle Ben's
3 ½ cups chicken stock
2 teaspoons kosher salt
1 clove garlic
2 pounds small shrimp, peeled and deveined
½ cup lemon juice (about 2 lemons)
2 tablespoons hot sauce
1 cup whipping cream
Freshly ground black pepper

In a medium non-stick saucepan, heat 1/2 of the butter over medium-low heat. Add the rice and cook, stirring frequently, until golden, about 6 to 7 minutes. Add the chicken stock and salt. Bring the mixture to a boil. Reduce the heat to medium-low and simmer covered for 20 to 25 minutes until the rice is tender and all the liquid is absorbed. Remove the pan from the heat and rest covered for 5 minutes.

In a large skillet, melt the remaining butter over medium heat. Add the garlic clove and cook, stirring frequently, for 1 to 2 minutes until aromatic. Add the shrimp, lemon juice, and hot sauce. Cook for 2 to 3 minutes until the shrimp is pink and cooked through. Stir in the cream and heat through. Season with salt and pepper, to taste.

Using a fork, fluff the rice and arrange on a platter. Spoon the shrimp cream sauce over the rice and serve.

Yield: 4 servings

One year ago: Chocolate Nudges
Two years ago: Sugar Saucers
Three years ago: Banana Bars with Cinnamon Cream Cheese Frosting
Four years ago: Avocado Fries
Five years ago: Chocolate Stout Cupcakes
Six years ago: Black and White Cookies
Seven years ago: Lasagna with Pink Sauce, Leeks and Sausage

Print This Recipe